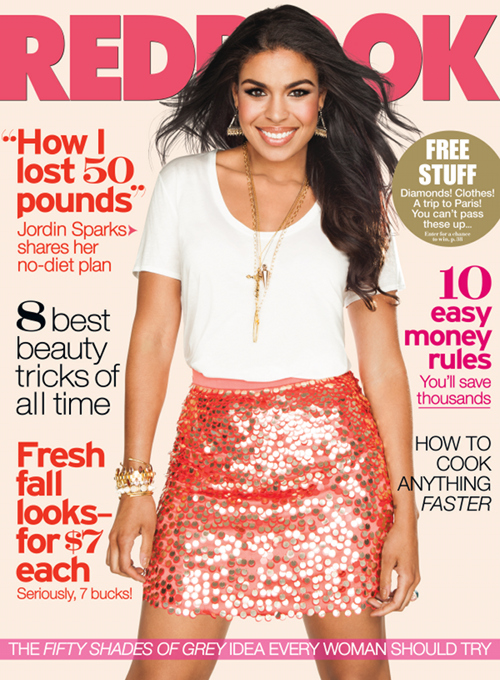 With the release of her new movie "Sparkle" just one short week away, Jordin Sparks has landed the cover of the September 2012 issue of Redbook Magazine.
Inside, the 22-year-old singer/actress talks about everything, from working with Whitney Houston in "Sparkle," to her boyfriend Jason Derulo, to her recent weight loss.
Check out a few highlights below!
On how Whitney Houston's death puts Sparkle in a new light:
"I get so overwhelmed because it's my first film, and for my first film to be so deep and heavy…I got to work with one of my idols and sing with her, and she even played my mother. I don't know if anything will ever be as good as this. Sometimes I ask myself, 'Why did I deserve to have a part in a film like this?' I don't want this to come off crazy, but somebody said to me, 'It's like Whitney essentially passed the torch.' And to hear that, it's just nuts."

On Whitney's struggles with addiction:
"I can only talk about what I experienced. I do think there is a different aura around the film now. I think there was some skepticism before. And there are certainly some themes in the movie that everyone would have wanted to ask Whitney about like, 'Did you relate your own life to this part?' which I'm sure she would have answered honestly. The cool thing about Whitney was that she was not scared to talk about or confront the things she had gone through."

On finding love with Jason Derulo:
"We both went through things that were tragic, and that brought us even closer together. He had a near-death experience, and I lost someone. Priorities get in line when stuff like that happens. Family is what matters — and being with the people you love."

On her recent weight loss:
"My whole journey has been about self-acceptance. There's no quick or magical way to lose weight. You just have to do it the natural way — diet and exercise and stick to it — and be able to do it at your own pace. Everyone has their own thing."

On why the Hollywood party scene isn't for her:
"Oh, I'm waaay too scared to dabble in anything like that. I like the way my heart beats, I like the way I think; I don't need or want anything to change that. The first thing I think of is, 'What would my grandparents say?' My mom and dad would kick my butt."
Be the first to receive breaking news alerts and more stories like this by subscribing to our mailing list.