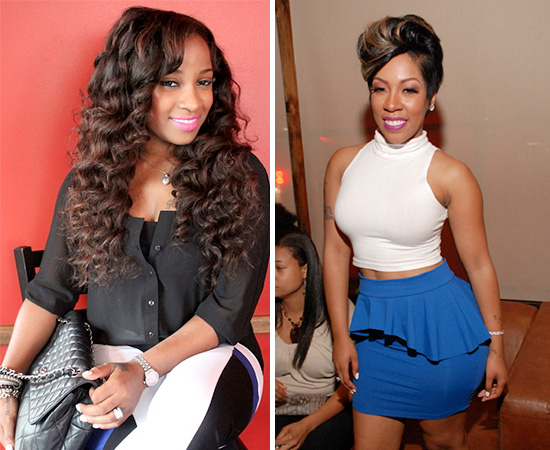 Toya Wright says that "Love & Hip-Hop Atlanta" star K. Michelle — who she believes to be "schizophrenic" — needs to keep her name out of her mouth, and stop telling her "story" about being abused by her husband Memphitz, which Toya says is an outright LIE!
During a recent interview with TalkingWithTami.com, Wright spoke on the longstanding beef she has K. Michelle:
"I promised myself that I was never going to talk about that because she's so irrelevant to me, but I'm going to say this: The picture she's painting of my husband, is not my husband.

"I've been knowing him for six years. I know several women that he has dated that never said anything about abuse. If someone abused you like that, where's the proof? Where's the police report? Where's the pictures?

"Where's the messages that you claim that he sent threats to your kid and threatened to kill your child? These are things that, it doesn't matter about love, you'd be in jail if you threatened my kid."
Toya said that the only reason she's even talking about K. Michelle is because she heard about the interview she did with The Breakfast Club this week, where the VH1 reality star continued her mud-slinging campaign against her husband, who she says is a very "affectionate" and "loving" person.
She event went as far as to say that K. Michelle might have been the aggressor in the (alleged) situation … since she's so angry and belligerent all the time.
"That's my husband. I don't know you, and I was not there when y'all had the altercation. True, but I'm going to be 100 percent supportive of my man. I don't know this abuser. I never met that guy. I don't know nothing about him abusing women or nothing.

"He's a very loving person. He's very affectionate. Anyone who knows him for real, just be like, 'What is wrong with this girl?' The crazy part about it is that everyone said you crazy and that you hit him."
Toya also advised K. Michelle to stop ruining her husband's name, and focus on her own music career.
"Pump your music up. I'm not a hater, but please stop talking about me and my family … Go and promote your music and do what you got to do. God gave you a platform. Use it."
Toya added that Mona Scott Young, the producer of "Love & Hip-Hop Atlanta," asked Memphitz to come on the reunion show to defend himself against K. Michelle's abuse allegations … but the couple turned the offer down.
Watch the full interview below:
Be the first to receive breaking news alerts and more stories like this by subscribing to our mailing list.