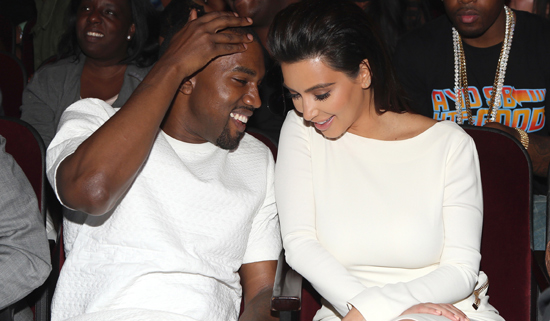 If you needed proof that Kanye West is really, really serious about his budding relationship with Kim Kardashian, then look to the title of his new song "Perfect Bitch," which he says was inspired by his new girlfriend.
Kanye tweeted, "I wrote the song Perfect Bitch about Kim," though he has since deleted that tweet. Perhaps Mama Kris got in his ear about the song title.
The song apparently details Kanye's history with not just Kim, but his other exes as well, according to The New York Daily News.
Kanye played "Perfect Bitch" along with a few other new tracks during DJ Reach's birthday party this past weekend at the PH-D Rooftop Lounge in NYC.
Ye also apparently rolled up with Leonardo DiCaprio in his posse. (Say what?!)
Since Kanye has now deleted the tweet announcing the song as "Perfect Bitch," don't be surprised if the track appears on G.O.O.D. Music's upcoming album "Cruel Summer" under a different name. That's what he did with his song "Way Too Cold," which was originally titled "Theraflu," but was changed due to trademark concerns.
The most concerning thing about all of this is the fact that Kanye feels ok publicly stamping his girlfriend Kim with the "perfect bitch" label. What is she? Cattle?
Say what you will about Kim Kardashian, but she's a businesswoman who has built a multi-million dollar brand for not only herself, but her family.
Doesn't a woman with such accomplishments under her belt deserve just a little more respect than that?
Be the first to receive breaking news alerts and more stories like this by subscribing to our mailing list.