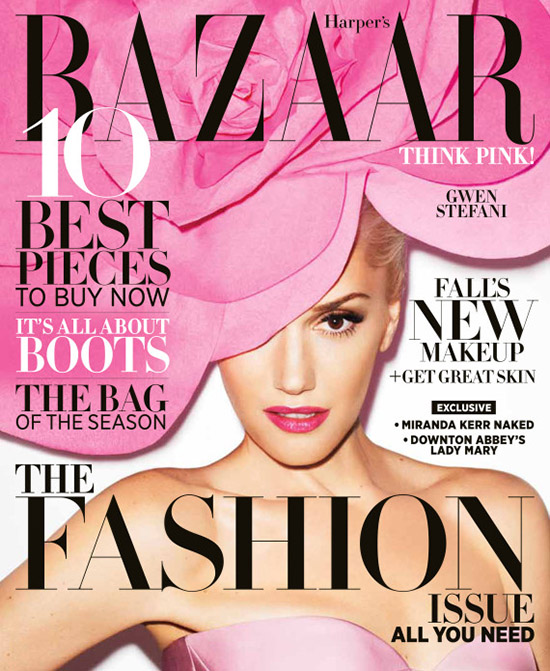 Gwen Stefani — who is gearing up for the release of No Doubt's new album "Push and Shove" (their first in over a decade!) — is pretty in pink on the cover of the September 2012 issue of Harper's Bazaar magazine.
Inside, the 42-year-old singer opens up about motherhood, dealing with tabloids, her obsession with makeup, staying in shape and more.
Read a few highlights (and check out the photoshoot) below!
On motherhood:
"It's, like, the real deal, dude. It's superfun being a mom, but it's hard too. Finding that balance between work and family is the hardest thing I've ever done—by far."

On dealing with tabloids:
"That someone would say something untrue or bad about me doesn't bother me. It's like water off a duck's back. None of that stuff matters. There's something in me, being this passive person, that those kinds of things don't upset me. I know they can say anything; they can just make something up. But what are you going to do? It's not part of my reality, so it's okay."

On her obsession with makeup:
"I've always been a girl who loves to dress up. I already put my makeup on twice today: I put it on to take my kid to school, and then I went home, washed my face, and put it on again to have lunch with you. I like to make my husband like me more, and he likes it when I'm wearing makeup."

On staying in shape:
"I hate talking about my body [all the time]; it's ridiculous," she says, referring to the number of times someone has asked how to get her six-pack abs. "There is no secret: You just have to eat healthy, work out, and torture yourself!" Jumping around onstage for a few hours for thousands of screaming fans is great cardio, and she says she hits the gym when her hectic mother-of-two schedule allows. "But it's more for my brain than it is for my body." Not that it's all about mental health. On how she stays sample-size: "I like to wear clothes too much, so I try to keep focused."
For more on Gwen Stefani, be sure to pay a visit to Harper's Bazaar!
Be the first to receive breaking news alerts and more stories like this by subscribing to our mailing list.