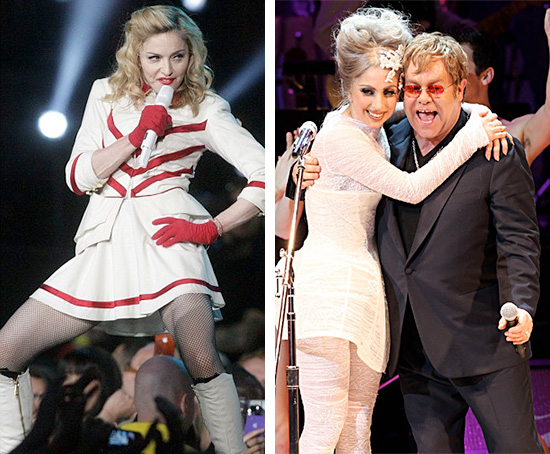 If there's one thing that can be said about Elton John, it's that he doesn't mince words.
The flamboyant and expressive rocker has had a long history of warfare with Madonna, the Queen of Pop. But that doesn't stop us from soaking in the latest skirmish in their lifelong beef.
(The Madonna jabs start in the video above at around the 7:00 mark)
Elton's latest jabs held no punches as he delivered a blistering critique of the Material Girl to Channel 7's Molly Meldrum.
He ranted: "Why is she such a nightmare? Sorry, her career is over. Her tour has been a disaster and it couldn't happen to a bigger cunt."

The incensed rocker continued: "If Madonna had any common sense she would have made a record like Ray Of Light and stayed away from the dance stuff and just been a great pop singer and make great pop records, which she does brilliantly.

"But no, she had to go and prove… she looks like a fucking fairground stripper. She's been horrible to Gaga."
Well, maybe it's cause we're U.S.-based but who knew that fairs had strippers? Do they shoot popcorn out of their fannies for coins? This must be a UK thing.
And did you catch the mention of Gaga? That would be Lady Gaga, the one who Madonna dismissed for her song "Born This Way," which Madonna shaded as being a "reductive" imitation of her own hit, "Express Yourself."
Lady Gaga and Elton John have been quite close. They performed a duet together at the Grammys in 2010, and Elton also named Gaga the godmother of his child.
So his strike at Madonna isn't just for himself, it's also for his gal pal.
Who shot ya, Madonna?
The "Lucky Star" singer hasn't commented on Elton's latest barbs yet, but stay tuned for the counter-shade coming to a gossip blog near you soon!
Be the first to receive breaking news alerts and more stories like this by subscribing to our mailing list.