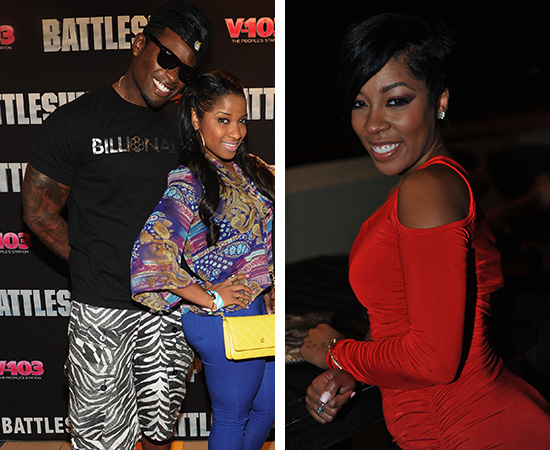 Perpetual neck-swiveler, napkin-thrower and weave-snatcher K. Michelle is out running her mouth and getting messy again.
It's no secret that K. Michelle used to date the rapper Memphitz. But it was news that Memphitz apparently used to beat on her, as K. Michelle claims.
The Tennessee spitfire stands by her testimony, but Memphitz and his new wife, Toya Wright (one of Lil' Wayne's baby mamas), has been questioning K. Michelle's allegations in the media and in public.
The fake Keyshia Cole is none too pleased, to say the least.
The struggling R&B singer shared all of her hurt feelings with blogger Miss Drama, as Crunk + Disorderly reports. And here's how K. Michelle responded to Toya's slick talk:
"I just got on the show basically to tell my story. I had been telling it. It wasn't something that I just started to tell when the show came on. It's just that they just started giving a fuck. I've been saying help me for a long ass time. And didn't nobody care what I been through. So now all of a sudden it's like wow, she's doing this for the show.

"I tried to do it the right way. I didn't say any names. And even when people rebuttaled and did things to me, I still tried to keep it pimping. But Ima tell you one thing…if you wasn't in that room, you need to shut the fuck up. And Ima tell you one more thing…if I don't come at you, then you don't come for me because my story is my story. So, I don't care if that's your husband or not because at the end of the day, you look dick drunk. That's what you look…dick drunk.

"You need to be quiet because ain't nobody came for you. I let you be a woman, I let you do what you needed to do as a woman. I'm happy about your hair, your books. We all need to stick together as women. But what you won't do…you can be ride or die for your man but don't be riding for a cause that you don't know shit about."
Watch K. Michelle share her side of the beef with Toya below:
This would get about 10 times more interesting if Toya joined the cast of Love and Hip Hop Atlanta. Hint, hint, VH1.