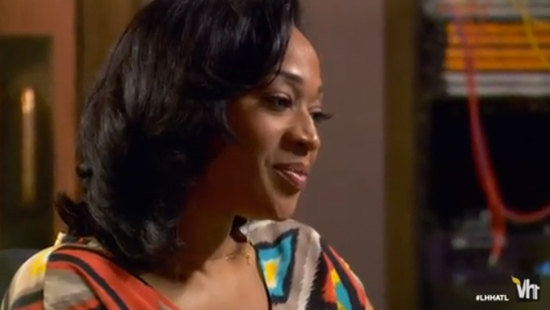 Somehow, "Love and Hip Hop Atlanta" has become little more than Mimi's world.
Stevie J's baby mama snagged not one, but two song dedications in one episode.
It started with K. Michelle inviting her "pal" Mimi over to the studio to hear a track that she'd recently recorded.
And, surprise! It's all about Mimi's very messed up relationship with Stevie J.
It's another Mary J. Blige/Keyshia Cole bitter ballad, except this time, K. Michelle slipped in all the dirt about Mimi's life in the lyrics.
Strangely, Mimi seems very pleased by all of her personal business serving as a lucrative musical platform for her friend. Let's hope Mimi pulls a Beyonce and strong arms a songwriting credit out of this whole deal.
Mimi's reaction to Stevie J's dedication to her didn't go over quite as smoothly though.
Mimi and co. were attending yet another K. Michelle showcase (At what point does she stop showcasing and start actually landing paid concert gigs?) when Stevie J, Benzino and his band the 757s showed up to perform something special for his ex.
In the song, Stevie went on about being tired of fighting and arguing; meanwhile Mimi rolled her eyes throughout the embarrassing spectacle.
Because she's a lady, Mimi did her best not to embarrass Steve for his pathetic cry for attention in front of all of Atlanta. So she did her best First Lady grin and wave and kept it moving.
But Stevie wasn't done with his performance yet.
Stinky Rat J then pulled Mimi aside for a little one-on-one brainwashing, where Mimi lashed out and let him have it.
But like Beyonce sang in "Halo," Mimi's walls came tumbling down. She actually bought the bullshit that Stevie spewed about wanting to work things out with her and ended up walking back to the event hand in hand.
In the preview for episode 8, Mimi hollers at Joseline that she's LIVING with Stevie J again. So yeah. It looks like dumb-dumb Mimi fell for Stevie's bait hook, line and sinker for the 1500th time.
Mimi needs to listen to Rihanna's "Take A Bow" about a thousand times straight to get her mind right.
Mimi and Stevie Get Some Much Needed Therapy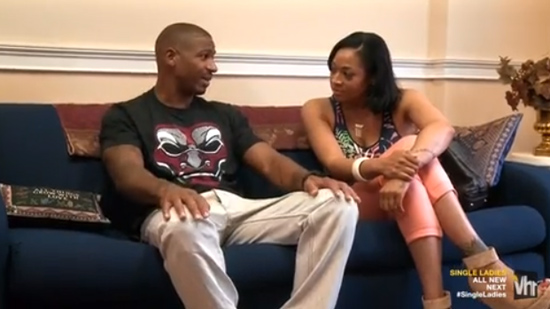 In an attempt to iron out the kinks in their curious relationship, Mimi and Stevie hit the therapist's couch for some insight and reflection. During the session, Stevie admits that he is indeed a liar. This makes Mimi grin like the Cheshire Cat, so we know Stevie is already winning points with her.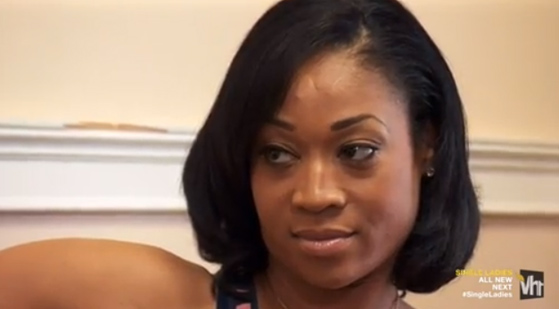 But it's blatantly evident that Stevie isn't taking the therapy sessions as seriously as Mimi is.
Maybe it's because he's going through the motions for the sake of reality TV, or maybe it's because humor is a deflection for the emotional scars that haunt him, but Stevie can't seem to get through a minute or two of therapy without smirking or laughing.
Even when he's talking about some pretty messed up shit, like the fact that he doesn't even know who his mother is.
The hell? Who takes that kind of stuff lightly?
Thuggish ruggish DMX broke down like a Chinatown iPhone when he finally made peace with his mother on his VH1 reality show, so you know Stevie's just trying to play it cool.
Unless Joseline ate his little black heart or something.
Mimi also confesses that her mother abandoned her, opting to follow a religious cult instead, leaving Mimi to fend for herself at 13.
The point of the painful blasts from the past are to establish the bond that links Stevie J and Mimi: They both have never known a mother's love.
Suddenly, it all makes sense. Like Sigmund Freud theorized, most folks' problems go back to their mothers and fathers.
And with that, Mimi tells Stevie that she's on his side and the two hug it out. Stevie J has successfully made it out of the dog house once again — for now.
Karlie Redd and Benzino's Love Grows Profitable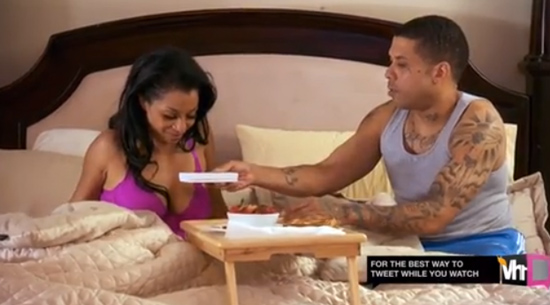 You've got to give Karlie Redd some credit; the girl knows how to get in the right beds.
Before she hooked up with Benzino, Karlie was shacking up with Antonio Reid, one of L.A. Reid's sons. And if she plays her cards right, maybe Karlie can work her way into Lil Wayne's bed and become Baby Mama #5. Then, she could really claim that Cash Money affiliation she was throwing around last episode.
But Karlie's new relationship with Benzino isn't sitting well with everyone.
Karlie's manager, Malcolm Miles, pulls no punches in telling her what he thinks of her career and her relationship.
After Karlie vomits some verbal diarrhea about working on some clothing or makeup line, Malcolm cuts to the chase and says she needs to be in the studio. He then hones in on her relationship with Benzino, asking if they're dating.
Karlie confirms they are and Malcolm tells her, in so many words, that she's wasting her time. "Maybe if he was hot and relevant…" Malcolm said.
Can we make Malcolm a regular? His truth serum is wonderful.
A somewhat wounded Karlie later takes Malcolm's un-minced words to Benzino's bed.
Benzino, who is strangely shaped like the Hunchback of Notre Dame, bristles at the criticism and tells Karlie that she's not so hot her damn self, so why should she be so choosy about who she's dating.
Ouch! But he's got a point.
Zino goes on and on about how Karlie shouldn't let the industry dictate her personal life and then this mutant yellow Smurf starts getting teary eyed and sniffly as he tells Karlie that he can't take this kind of stress on their "relationship."
Really? And this is the big, bad wolf who ran The Source all these years? Hip-Hop really is full of nothing but wanksters and fraudsters.
So after that grand speech about not letting the industry dictate a man's worth, Benzino contradicts himself and lines up a meeting with Vince Herbert, one of Lady Gaga's managers and Tamar Braxton's husband, to prove to Karlie that he still has some weight in the music industry.
For some reason, there's real loyalty between Benzino and Vince. They're so tight that Vince is willing to lie on national TV for his boy as he tells Karlie that she's doing something really unique that no one else in hip hop is doing.
Is that what he calls that horrible audition Karlie put on for Stevie J a couple of episodes back? Cause there's a reason no one is doing that in the industry.
The Shambles of Rasheeda's Career and Marriage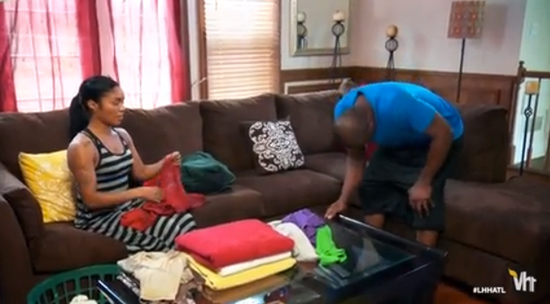 You know your stature in the music industry is low when you have to take business meetings with your manager while you fold your Sunday laundry.
But there Rasheeda is, having yet another meeting with her husbandger, Kirk, about moving forward with her 20-year-plus music career. As she discusses the matter, Rasheeda once again bursts into tears.
Does she always cry when she talks to her husband? Why? Does his breath smell like onions or something?
In the end, Kirk says he wants Rasheeda to pretty much give up her hip-hop career. He doesn't necessarily say it in those words, but he complains about having to put off having kids, going to the movies and other personal time.
So what he's really asking her to do is give up the Hollywood scene. Rasheeda doesn't seem to feel the same way, so she smartly proposes that Kirk step back from managerial duties.
Ding, ding, ding! Common sense has finally landed in Rasheeda's brain. It must've been caught up in her sideburns before.
Scrappy's Shady Child Support Two-Step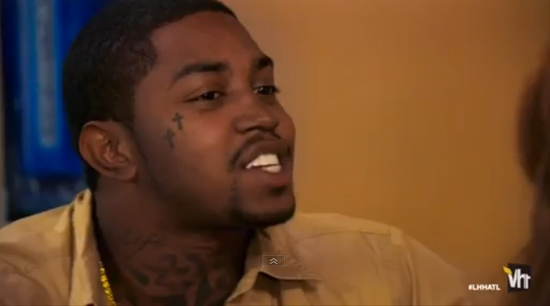 There's a serious problem with Lil' Scrappy spilling his baby mama drama with Shay.
First off, Shay is doing too damn much by calling Erica "bogus." She's a sideline chick in a situation that's been going on for years and she should have no opinion on another woman collecting funds for her child.
But to her credit, Shay tries to pin down exactly what it is that Scrappy wants from Erica in the form of child support relief.
Scrappy explains he wants to give Erica a lump sum payment of rather than cutting her a monthly payment. He would then "take care of her" on an ongoing basis as needed.
He also complains that Erica wanted him to put the money in her account rather than an account he created for their daughter.
Is this fool crazy? Does his daughter have a check card? Can she pay bills? Of course the money should go into Erica's account. Scrappy needs to quit playing games and pay the child support he owes his daughter.
And if you believe that Scrappy's issue with child support payment is really about a lump sum versus reoccurring payment, then you probably believe that Momma Dee graduated from Oxford University magna cum laude.
Lil' Scrappy better call up Stevie J and Benzino to see if they can't book some studio time with David Guetta for one of those Flo Rida jams. These ninjas needs to find work.
For real.
Be the first to receive breaking news alerts and more stories like this by subscribing to our mailing list.