Perpetual. Continuous. Incessant. Habitual. Nonstop.
Those are just a few words that describe the "Chris Brown and Rihanna Are Back Together" rumors that have plagued the former couple ever since they decided to collaborate on a couple of songs together earlier this year.
We all know Chris Brown and Rihanna will never publicly acknowledge any relationship that they may or may not have … but that doesn't stop us from reporting about it, and it definitely doesn't stop you from reading about it.
Take this little nugget of "information" from the New York Daily News for example:
Rihanna and Chris Brown don't feel like they have to hide in international waters. A source on the yacht of Malaysian billionaire Taek Jho Low with RiRi and Brown Sunday evening in Saint-Tropez says the former couple were kissing in plain sight of other partygoers like Kanye West, Kim Kardashian and Leonardo DiCaprio. "It was a very private party on a yacht, so they were not worried," says the source.
Oh really, New York Daily News? So Rihanna and Chris Brown kissed each other — on the mouth, allegedly, of course — in front of a yacht full of people … but you don't have picture proof?
Not even one blurry shot of two random people who could look like Chris Brown and Rihanna (but probably aren't) kissing?
Pics or it didn't happen!
While there's no current picture proof of Chris Brown and Rihanna kissing … there are a few photos floating around that supposedly debunk the latest "Chris Brown Has Dumped Karrueche And is Back with Rihanna" rumor, which was fueled earlier this week when it was reported that Chris and Rihanna were in France together … following another set rumors of saying that Chris had dumped Karrueche because she was texting Drake.
There's this one photo of her with a sad pouty face, shopping with one of Chris' bodyguards on Monday (Jul 23):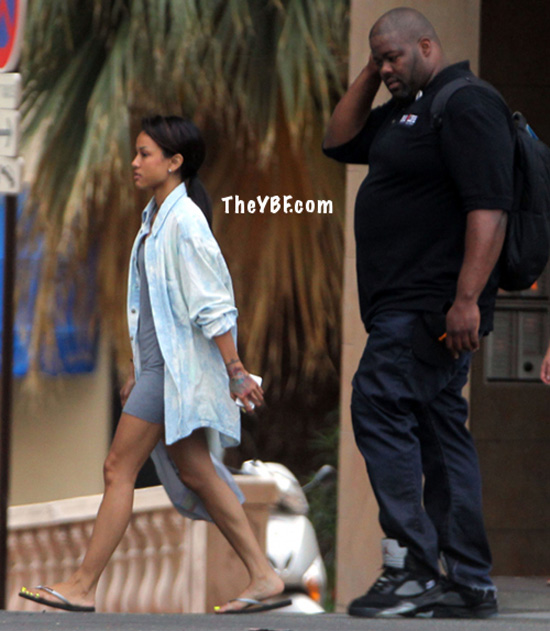 And then there's this one of her sitting beside Chris with another equally sad pouty face, while he parties his ass off at the club later in the week: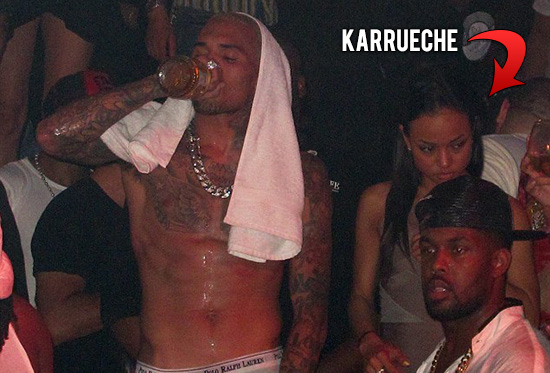 Brown's "reps" also released a statement this week, slamming the rumors that he broke up with Karrueche, and flew to France to be with Rihanna:
"CB is in France to shoot a music video for Swizz Beatz album and Ludacris is in it. It's Swizz's song. Karrueche is there with him…They never broke up. He is not on her (Rihanna's) yacht. There is no Rihanna connection."
And there you have it.
Not just one, but TWO forms of picture proof, as well as a strangely worded "statement" from someone claiming to a rep, that Chris and Karrueche are still together … somewhat.
Be the first to receive breaking news alerts and more stories like this by subscribing to our mailing list.