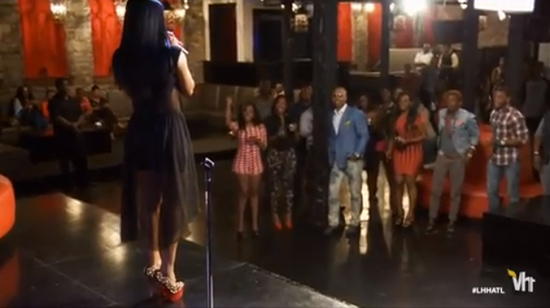 Rihanna said that she found love in a hopeless place, but can Rasheeda find a career there?
The scene at her launch party for her new single (shown above) seems to suggest that it'll be a really, really long haul.
Episode 6 of "Love and Hip Hop Atlanta" focused on the struggles of local ATL talent Rasheeda and her husbandger, Kirk Frost.
Rasheeda has 5 albums under her belt and a "situation" with Jive Records that has ultimately petered out and dissolved into nothing. Now that she's pushing well into her 30s, she's smartly starting to question if she's ever going to pop off.
Her insecurities about her flailing career are only intensified by the embarrassingly lackluster launch event that her husbandger organizes for her new single.
Kirk booked a large club venue but forgot to pack the room with bodies. That room was emptier than Terrell Owens' bank account. Couldn't Kirk have at least put out the call on Twitter for the ratchet and stank to come on through? Free drinks would've had that room packed like the hair on K. Michelle's head.
Fed up with all the fail, Rasheeda goes off to see the Wicked Witch of ATL: Deb Antney.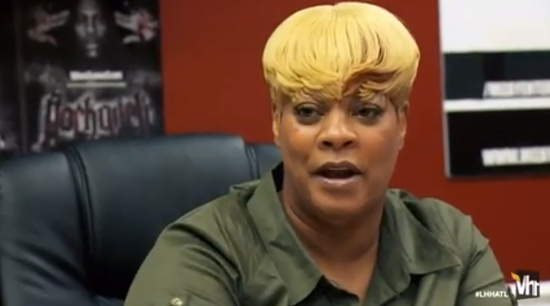 Deb Antney is Wacka Flocka Flame's mother and manager, but she's truly a force of her own. She helped establish Nicki Minaj in the early days of her career, so Rasheeda comes to her for a career check-up of sorts.
Nicki Minaj is not an official cast member of Love and Hip Hop Atlanta, but she might as well be given how much the cast members drop her name. First, Joseline mentioned Nicki when she was beefing with Karlie, and now Rasheeda mentioned Nicki in relation to her work with Deb.
Rocking a variation of Justin Bieber's swoop hairstyle, Deb's rough face and tough voice match her brutal assessment of Rasheeda's career.
In short, she says that D-Lo, her husband's company, has got to go. This, strangely, reduces Rasheeda to tears. She came to Deb because she wanted to find out what was wrong with her career and she knew that Kirk was part of the problem, so in essence, she got the answer she was seeking. But all of a sudden, she wants to act brand new.
Deb Antney has the demeanor and presence of a women's prison guard, so it's hard to imagine Rasheeda being man-handled by her, but we all know Rasheeda ain't gonna leave Kirk anyway, so this was just an opportunity for Deb to promote herself and collect a check.
Rasheeda to Kirk: You're Fired (Sorta?)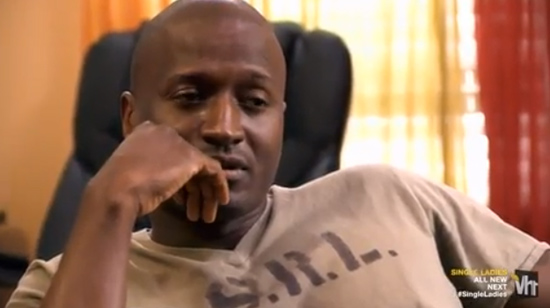 Later in the episode, when Rasheeda confesses to Kirk that she had a meeting with Deb, he stares at her with a Sweet Brown "Ain't Nobody Got Time for That!" look. He cuts to the chase: Is she going to fire him?
Rasheeda's walls come tumbling down and she says she doesn't want to say that. In her confessional interviews, Rasheeda says she would like for Kirk to co-manage her with somebody else.
WTF? Where they do that at? If Beyonce can fire her daddy as her manager, then Rasheeda needs to grow a pair and cut her husband loose from the business side of her life. He'll always be her husband but he doesn't have to be her manager.
A (Fake) Love Blossoms Between Karlie Redd and Benzino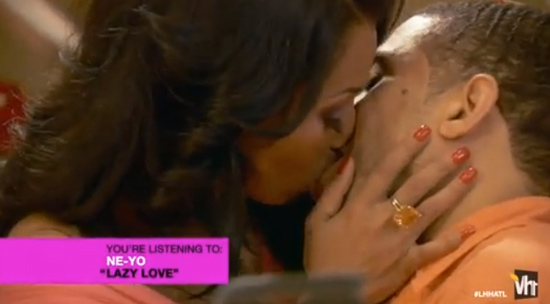 There's always an element of artifice to these reality shows. People who would never be friends in real life are forced to go on international excursions together and put in situations that likely would never play out in real life. But this "romance" between Karlie Redd and Benzino is one of the most uninspired, fraudulent relationships in reality show history.
The pair conveniently "meet" in the parking lot after Karlie's meeting with Stevie J, and the romance moves quickly, as Benzino invites her over for dinner.
Trying his best to be a Romeo, Benzino confesses to Karlie that she's been on his mind. Karlie giggles and says she feels the same.
Then Benzino presents Karlie with a book about filmmaking and some Godiva chocolates. To show her appreciation, Karlie hops up and sits on Benzino's lap and proceeds to tongue the man down.
If she's this hype over some presents that Benzino clearly ordered off of Amazon at the last minute, you can only imagine what she'll do if he buys her an expensive dinner.
But really, what's the difference between Karlie and Joseline again? Cause right now, Karlie's using her body to get ahead with Benzino just like Joseline so….it's time for the pot to let the kettle be.
Lil' Scrappy Has A Lil' Child Support Problem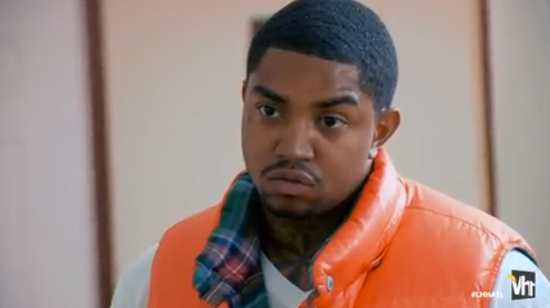 Nothing gets a good rapper down like child support.
Well, in Lil' Scrappy's case, we'll have to say like child support and asthma, but really, child support is the black man's kryptonite. It cripples his bank account, eating out of his groupies, hos and Long John Silver's budget, and forces him to be responsible for where he lays his seed. Imagine that.
So after kicking Erica to the curb for Shay, Scrappy meets up with Erica to, you know, find out if she'll still hold him down with the whole taking him off of child support thing.
Erica, smartly, doesn't budge an inch and points out that she asked him for money last week, which he has yet to put into her bank account.
Scrappy mumbles about not getting around to it yet. So Erica breaks the bad news to him: No way, Jose. This sets Scrappy off into a fit and he demands to be de-mic'd and storms out of the house. Score one more for Erica.
Silly Shay tries to play a middle woman in the situation, running to Scrappy's mother, Momma Dee, for a lunch meeting. But she'd be wise to mind her business. Child support is not a game and she's barely even a player in Scrappy's life.
Let Erica handle her business because if Shay got knocked up by Scrappy, she'd be doing the same thing.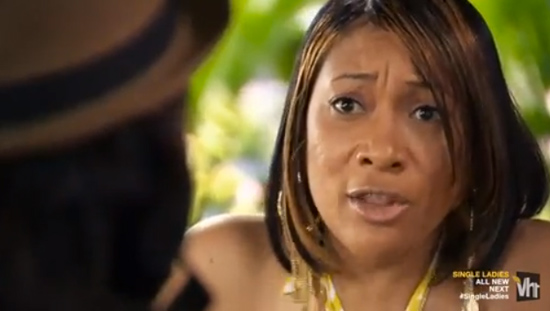 Later in the episode, Erica meets up with her mother for advice. Speaking with the fire and passion of a Baptist preacher at a Sunday service, Erica's mom tells her daughter "HELL NAW!" to taking Scrappy off of child support.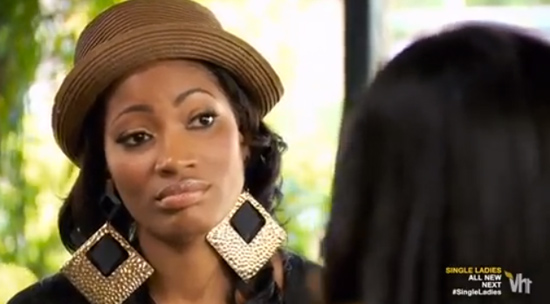 Erica's response: Mmhmmm, girl.
Joseline Meets Mimi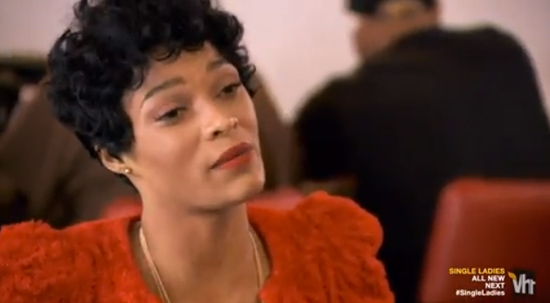 After sending Mimi a very nasty and grammatically incorrect text message telling her to keep the name Joseline out of her mouth, the Latin firecracker decides to try and mend some fences.
Joseline invites Mimi out to coffee for a quick chat, and she tries to smooth things over with Steebie's baby mama, but Mimi isn't being very cooperative.
You can tell that Joseline is doing her best to keep her cool cause she keeps saying, "Ok, I'ma let you hab dat." Give it up for Joseline, cause the old Josie would've stood up and snatched Mimi's wig from the jump.
For some strange reason, Mimi feels the need to assert ownership over Stevie.
"That's my daughter's father and I will call him whenever I feel," Mimi says.
Exactly what does Mimi have to say to Stevie though? Didn't she pull a Beyonce "Irreplaceable" on him and put his stuff to the left, to the left last episode? Mimi stay scheming.
So with Joseline's attempt at a Waiting to Exhale moment deflated, the two part with very little accomplished.
Meanwhile, in Master Splinter's cave, Stevie J takes another bite of cheese and basks in all the glory of having two hos fight over his dirty D.
Who says it's hard out here for a pimp?
Be the first to receive breaking news alerts and more stories like this by subscribing to our mailing list.