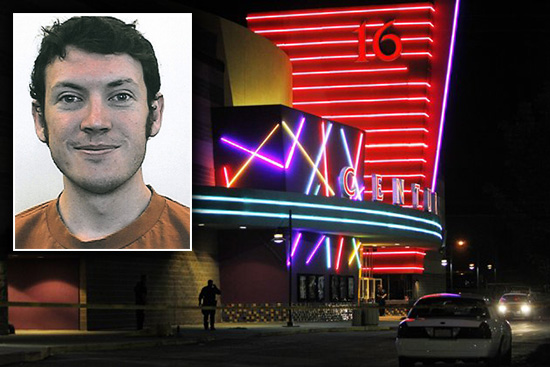 At least 12 people were shot and killed, and 59 others were wounded, after a masked gunman opened fire early Friday morning (Jul 20) during a premiere showing of the latest Batman movie "The Dark Knight Rises" at a movie theater in Aurora, Colorado.
According to Aurora Police Chief Dan Oates, 10 people died at the theater, and at least two others have died at nearby hospitals.
The tragic shooting incident went down at the Century 16 theater at around 12:30 am. The Aurora, CO movie theater is said to be about 13 miles from Littleton, CO — the scene of the infamous 1999 Columbine high school shooting.
Police say the gunman, who they have identified as 24-year-old James Holmes, made his way into the darkened theater packed with Batman fans and released a canister of tear gas, setting off mass hysteria and chaos.
Panicked moviegoers were screaming as they scrambled to escape the gunman, dressed in all black, who wore a gas mask and randomly shot as he walked up the steps of the theater.
Police and witnesses said some people in the audience thought the thick smoke and gunfire were a special effect associated with the movie, and it took a few gunshots before they figured out what was going on.
"I hit the floor and hid behind the seats in front of me, pulling my wife down to hide with me," CNN iReporter Adam Witt said.
"It was the longest minute of my life. The gunshots just kept coming. I knew it could be over any second. I knew my wife could be gone any second. It was absolutely surreal. I felt something hit my left arm, and my first thought was, 'At least it's just my arm.'"
"There were so many people running," he said. "I didn't look back. I just remember getting up from the floor and shouting, 'We have to run.'"
Witt said he and his wife held hands while they were running out of the theater. "There was a moment where I lost her hand, but I grabbed her shirt," he said. "We didn't let go of each other."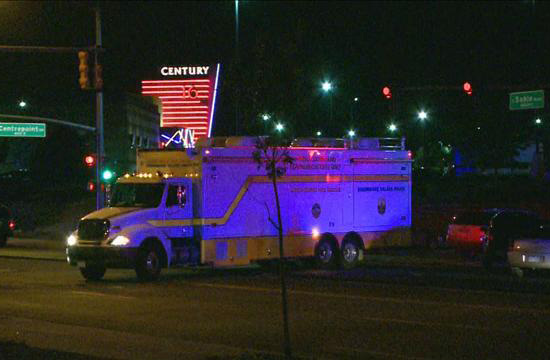 Officials told CNN that the shooter had at least four guns — an "AK type" rifle, a shotgun and two handguns. The man was arrested behind the theater shortly after the shooting.
"He did not resist. He did not put up a fight," Frank Fania, a police spokesman, told CNN.
Holmes reportedly told police that his apartment was booby-trapped and rigged with bombs, but after SWAT teams inspected the building, no live bombs were found, though they discovered "items of interest" inside the apartment.
There were initial reports that as many as 15 people had been killed in the shooting, but police updated the death toll to 12 later Friday afternoon.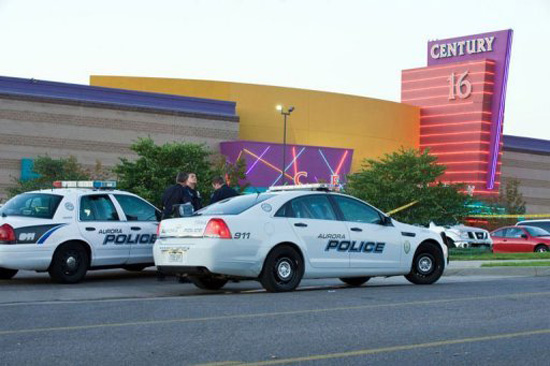 One witness says they saw a police officer carrying a girl believed to be around 9 years old with gunshot wounds to her back out of the theater, and "she wasn't moving."
Many of the wounded were rushed to the hospitals in their patrol cars, while others were either transported by ambulance. "They're arriving by police, by ambulance. Some are walking in," a hospital worker said early Friday morning.
Some of the injured people — ranging in age from 3 months to 45 years old — are listed in critical condition. The dead and injured included young children, and initial reports stated that a baby was shot at close range.
President Obama released a statement saying, "Michelle and I are shocked and saddened by the horrific shooting … We will do everything we can to support the people of Aurora in this difficult time."
Be the first to receive breaking news alerts and more stories like this by subscribing to our mailing list.