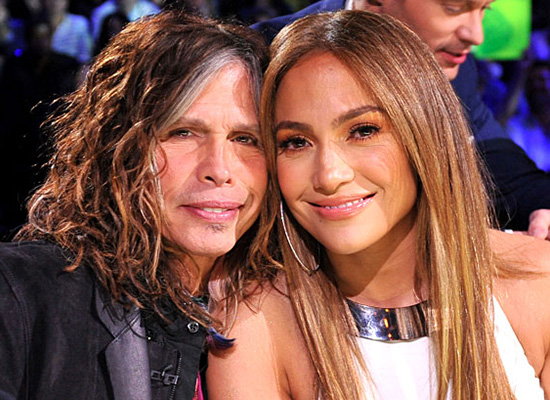 Following Steven Tyler's erratic explanation of his departure from "American Idol" … Jennifer Lopez has also announced that she will be leaving the show.
In a ridiculously worded statement, Steven Tyler, who joined the show in 2010, compared "Idol" to a psychotic mistress who wanted to kill his rabbit, and announced that he will be going back to his first love — music.
"After some long……hard……thoughts…I've decided it's time for me to let go of my mistress 'American Idol' before she boils my rabbit. I strayed from my first love, Aerosmith, and I'm back — but instead of begging on my hands and knees, I got two fists in the air and I'm kicking the door open with my band. The next few years are going to be dedicated to kicking some serious ass — the ultimate in auditory takeover … On Nov 6, we are unleashing our new album, Music from Another Dimension on the Earth, Moon, Mars, and way beyond the stars … 'Idol' was over the top fun, and I loved every minute of it … Now it's time to bring Rock Back. ERMAHGERD."
Yes, Steven Tyler really said "ERMAHGERD" in an official statement. What does that even mean?
On the normal side of things, Jennifer Lopez — who famously signed a $12 million deal to join AI in 2010 — confirmed her departure, and tearfully told her co-worker Ryan Seacrest on his L.A. based morning radio show:
"I honestly feel like the time has come. I know I have to get back to doing the other things I do."
Lopez hinted at her departure from "American Idol" in an interview on the 'Today' show this week.
"You know, I signed on to 'American Idol' to do one year, and … I wound up doing the two years. And now it's like, 'OK, do we continue on this journey?' " she said. "I know everybody wants that definite 'yes' or 'no,' and … all I can let you in on is my own thought process with it, because that's where I truly am."
Several rumored replacements for Steven Tyler, Jennifer Lopez and maybe even Randy Jackson (who has ye to say whether or not he will be coming back next season) have been named, including Adam Lambert, Charlie Sheen, Fergie, Nicki Minaj, Katy Perry, Will.i.am, Jerry Lewis and Mariah Carey, who is said to be "in serious talks" with Idol producers.
Who do you think should replace the judges on American Idol?
Be the first to receive breaking news alerts and more stories like this by subscribing to our mailing list.