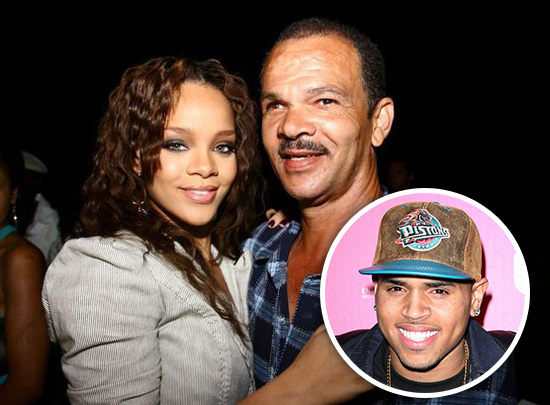 Rihanna's father Ronald Fenty has reportedly given the singer his blessing to reunite with her ex-boyfriend Chris Brown, saying that, despite their turbulent past, the decision to rekindle their romance is all hers.
Fenty explained in a recent interview with Grazia magazine that he thinks Chris has "matured" since his 2009 assault incident, and also thinks that Chris and Rihanna make a "perfect couple."
"Chris has matured a lot," he told the UK publication. "I think everybody has to put the past behind them. And they seem to have done that. Being a couple is all up to her. Every decision is her decision. I just wish her the best. I hope things will work out. Everyone is entitled to make a mistake. Her fans are hoping it will happen. They see them as a perfect couple."
On the other side of things, Chris Brown's father Clinton (wait … Chris Brown has a dad?) has advised his son to stay away from Rihanna and concentrate on his career.
"I do not condone everything that goes on with Chris, but I love my son with all my being," Clinton Brown told Star Magazine (Editor's note: so take this with a grain of salt). "I am always concerned about him… He can make his own decisions. But, as a concerned parent, I would rather they not have any involvement… Sometimes you need to cut the strings and move beyond the past."
Do you agree with Rihanna's dad … or Chris' dad?
Be the first to receive breaking news alerts and more stories like this by subscribing to our mailing list.