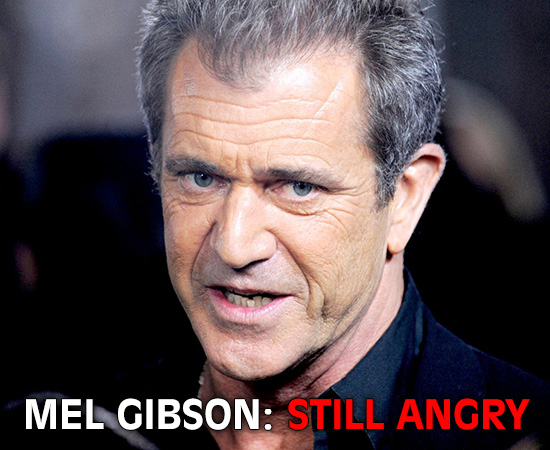 Hollywood actor/director Mel Gibson is hitting the headlines for all the wrong reasons once again. This time, his 78-year-old step mother is claiming that he is threatening towards her, and she wants a judge to make sure that he stays away from her.
Mrs. Teddy Joye Hicks Gibson has filed a restraining order claiming that after the ill-tempered 56-year-old's numerous outbursts … she now fears for her own life.
Teddy claims that Gibson has spit in her face, threatened her and also interfered with her marriage to Gibson's 93-year-old father Hutton Gibson.
She also accuses her stepdaughter Maura (Mel's sister) of being in on Mel's threatening act, and that both of them hate her because she made it known that she does not approve of the controversial medical treatments that both Mel and his sister have been forcing their ailing father to undergo.
She claims that her step children also coerced their sick father into divorcing her earlier this month.
TMZ managed to obtain the legal documents filed by Mrs. Gibson's attorney Brian J. Kramer. The details are as follows:
October 2011 — Mel screams at Joye because Joye does not approve of "experimental Ozone treatments" Hutton was undergoing for an undisclosed illness.

"Mel began yelling and saying, 'f*ck this and f*ck that' while leveling other extremely offensive language at me."

Joye claims Mel warned her "not to f*ck with [Hutton's] treatments in any way."

***

January 2012 — While visiting Hutton in the hospital, Joye claims she said something that set Mel off … and "Mel got up, looking wild and began yelling at me in a very loud and terrifying voice."

"Mel was so upset and screaming so fiercely that I could see his face turn red."

***

March 2012 — Joye, along with Mel and his sister Maura, accompanied Hutton to Panama for stem cell treatment for his hip.

Mel was cooking food and offered some to Joye … but she declined due to a stomach ache.

Joye claims, "Mel looked at me in disgust and said that I was insulting him by not eating. He then threatened that if I did not eat he would have me put outside."

***

May 2012 — During a family meeting to discuss Hutton's health care, "Mel became incensed and began acting like a wild man."

Joye claims Mel began screaming right in her face … noting, "He was so close that I could feel his spit hitting my face."

She claims Mel's eyes "looked as if they were bulging out of his head."

Joye claims she was paralyzed with fear and later vomited because of the incident.

***

In the docs, Joye claims Mel and his sister MUST have manipulated their ailing father into filing for divorce … because Hutton is a devout Catholic and doesn't believe in divorce. Plus, she claims Hutton recently penned her a love note claiming, "Our mutual love is permanent."

Joye claims Mel is even trying to force her out of her home … because it's owned by a charity that Mel controls. Joye says she has no place else to go.

Joye wants a judge to block Mel from booting her from the home … and prevent him from interfering with her attempts to communicate with her husband.

She also wants Mel to stay 100 yards away from her at all times.
A California judge has decided that instead of issuing a restraining order, the matter will be hashed out in a full hearing that will take place next month.
So far, there has been no comment from Angry Mel's reps…
Be the first to receive breaking news alerts and more stories like this by subscribing to our mailing list.