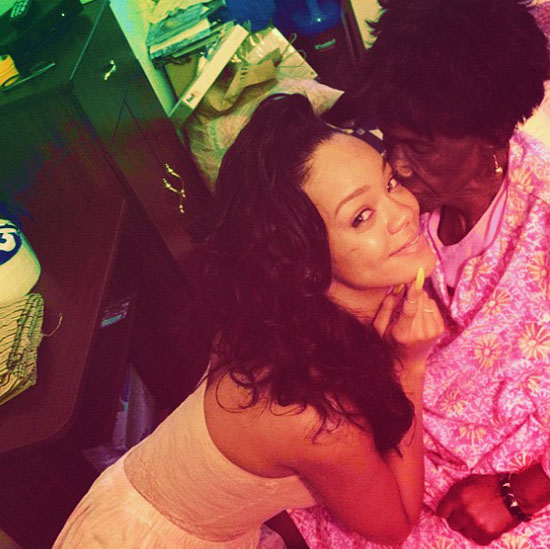 Rihanna is mourning the loss of her beloved grandmother Ciara "Dolly" Brathwaite who sadly passed away over the weekend after suffering from cancer.
In the early hours of Sunday morning (Jul 1), the Pop singer took to her Instagram account and posted multiple pictures paying tribute to her grandmother, whom she affectionately called "GranGran."
Rihanna had just come off a performance at Sweden's Peace & Love music festival when she got the sad news. According to reviews of the concert, some fans became very frustrated with Rihanna's show after she turned up late and seemed shaky at times. However, after the show, it seemed like the death of her gran may have affected her performance.
Those who follow Rihanna on Twitter know that she had a very close relationship with not only her grandmother, but also her grandfather. Back in March, the singer took a break from her busy schedule to celebrate her grandmother's birthday and posted pictures from the party to her Twitter page.
After the sad news surfaced this past weekend, Rihanna tweeted: "Goodbye #grangranDOLLY get your beauty rest until I see you."
Condolences from her army of fans then began to pour in on the site. But, what people paid attention to the most is a tweet from Chris Brown's mother Joyce Hawkins. "@rihanna ANGEL MAY GOD BE WITH YOU AND YOUR FAMILY IN YOUR TIME OF SORROW. LOVE YOU ANGEL," Ms. Hawkins tweeted, to which Rihanna replied, "Thank you! Love u mama."
Chris wrote his own heartfelt message later: "Praying for family and the lost loved one. She was like my grandmother. Love you GRAN GRAN! RIP."
Our thoughts and prayers are with Rihanna at this sad time…
Be the first to receive breaking news alerts and more stories like this by subscribing to our mailing list.