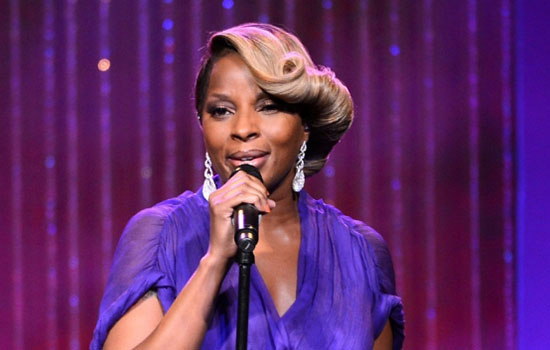 Mary J. Blige became the butt of one of the Internet's biggest jokes earlier this year when Burger King released a commercial showing the R&B singer performing a jingle describing their new crispy chicken snack wraps.
The lyrics (in case you forgot) went a little something like this:
Crispy Chicken, Fresh Lettuce, Three Cheeses, Wrapped up in a, tasty, flour, tortilla!
After the commercial aired on TV and started getting viral on YouTube … bloggers, critics and Twitter/Facebook users alike all criticized and/or made fun of the ad, labeling it racist and offensively stereotypical.
Shortly after the commercial ad, intended to promote Burger King's new revamped menu, was pulled from the Internet (and later from TV as well), Mary J. Blige released a statement apologizing for the "unfinished ad" … and up until Thursday (Jun 27) when she did an interview with New York City radio station Hot 97, MJB had remained silent about the controversy and public fallout.
During her interview with Hot 97's Angie Martinez, Mary J finally explained why she decided to do the commercial, and described how she was affected by all of the negative reactions. She also admitted that the reason she had been so quiet about it was because everyone around her was crucifying her, which she said hurt her feelings.
Mary J. Blige also revealed that the final version of the commercial was very different than the "iconic" version that Burger King initially proposed to her, which she originally saw a "great branding opportunity."
Still, Blige said, "It was a mistake when you look at it at the end of the day, because people look at it as a mistake. But I did it because I thought it was something that wouldn't come out like that."
The 41-year-old singer also apologized to her fans, saying that she would never do something like that on purpose. "I want to apologize to everyone that was offended or thought that I would do something so disrespectful to our culture. I would never do anything like that purposefully. I thought I was doing something right. So forgive me."
Check out the excerpts from the interview (shout out to Necole Bitchie for the transcription) below:
On finding out about the commercial and her first reaction:
I went online to listen to the remix I did with Fat Joe and I'm looking for that and all I see is Burger King, chicken, buffoonery and I'm like, "What the heck?" It just broke my heart that people were going crazy and I understand the laughter and the jokes that was happening. That's all good! You're supposed to do that when something like that happens . It made people's website [hits] go up. It made people get more ratings on their radio stations. Cool. Whatever. Hehe Haha, but the thing that hurt me is when people were just starting to say vicious and negative things that didn't even have nothing to do with that. What it did was expose everyone and everything that was in my life and it showed me who my friends are.

When I saw it, it hurt me so bad. It looked like soft porn. On the part where it says "What's in the chicken wrap?" How about this, I was asking them a question for real. I couldn't remember the words so I was like, "What's in the chicken warp?" They sped it up and made me look ridiculous. It was like I wanted to crawl under the bed. It was crazy how I felt, you don't even know. I had to go to the airport the next day when it was hot off the press. It was a mistake! People look at it as a mistake but I did it because I thought it was something that wouldn't come out like that.

On what Burger King initially told her the commercial was going to be:
It was sold to us that I would be shot in an iconic way and it was going to be great so I was looking for someone to have mercy but no one had mercy and it's cool. It was a learning experience.

On how the backlash and negative comments affected her:
It hurt my feelings. It crushed me for like two days but after those two days I got up and I kept going. Andre Harrell, my real family members stood up for me but all those fair-weather friends, and suckas that were online poppin' junk. People were jumping out saying "Uh-Oh, I didn't do that, not me." It's like who asked you? And that's the type of stuff that hurt my feelings so bad and I want to apologize to everyone that was offended or thought that I would do something so disrespectful to our culture. I would never do anything like that purposely. I thought I was doing something right so forgive me and now I'm moving on.

On if she felt that doing the commercial was a mistake:
Now I feel like I did. I didn't know I was making one honestly. First of all, as a kid I always wanted to do something like a Burger King commercial, or 'have it your way' or even a McDonald's commercial. When we were kids, my father, who is a musician wrote us a jingle to McDonalds, which is crazy. At the end of the day, it's something that I always wanted to do and dreamed about and that's why I did it. No, they didn't pay me $2 million dollars. It was about an branding opportunity.

On rumors that Burger King paid her $2 million for the commercial:
Listen, Proactive came to me asking me to be a spokesperson for their line. I don't use proactive and it was a lot of money and it was way more money than $2 million dollars. My fans look at me and they want to do everything I want to do. What is she using on her skin? What is she wearing on her hair? I'm more concerned about my fans and telling them what's real then some money. I've turned down alcohol and they always come with the most money and I'm like, 'no, I'm not doing that,' because here I am saying I want to turn my life around and I don't abuse alcohol anymore so why am I going to sell it to you?
[NB]
Be the first to receive breaking news alerts and more stories like this by subscribing to our mailing list.