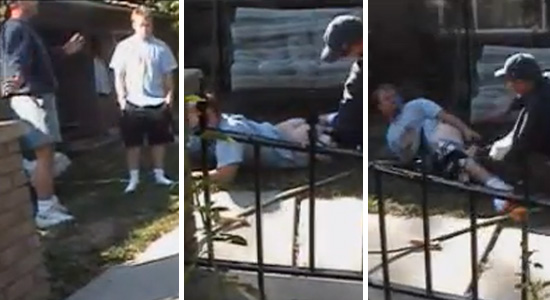 An extremely awkward video showing a father spanking his underage daughter's adult boyfriend after after finding out that they had sex has gone viral on the Internet.
The nearly 3-minute clip shows the father — probably in his 40's or 50's — outside the boyfriend's home and yelling at him for sleeping with his young daughter. Her age is never revealed in the video.
After a short back-and-forth between the older man and the boyfriend — who we believe to be in his early to mid-twenties — the younger man reluctantly agrees to pull down his shorts and get "spanked" as an embarrassing punishment for what the father called statutory rape.
"Consider yourself lucky, James," the supposed father says at the end of the soanking. "You could have had rape charges … or an ass-kicking."
There are very little detail about who's in the video, or when or where it was recorded, but it has racked up nearly 400,000 views since it was first uploaded on June 15th. A description on YouTube reads:
Angry father gives his underage daughters adult boyfriend an option of either a severe ass kicking or a brutal spanking. He opted for the spanking. That's what you get for "puttin it" to an underage girl.
"Just lay down," the father tells the younger man in the video. "I'm not gonna kick ya, punch ya, but spank your ass, that is it. And it'll be the end of it."
"This is the same thing that Chelsea [his daughter] got," the older man adds before pulling down the younger man's shorts and smacking his bare butt … with his bare hands.
After several hard smacks to the rear end, the boyfriend yelps in pain: "Enough dude! I ain't even gonna be able to sit, dude!"
Afterwards, as the father is driving away, he tells the guy holding the camera (who is his son/friend?), "My ring finger's swollen." He asks the camera man, "Did you get it when he said, 'I won't be able to sit down?'"
Reactions to the video are mixed, with some saying that the father should have went to police and not taken the law (or that guy's naked butt) into his own hands … while others believe the "brutal" spanking was due punishment.
Either way … the entire thing is just awkward as hell. Who just goes around spanking people on the butt?
What do you think?
Be the first to receive breaking news alerts and more stories like this by subscribing to our mailing list.