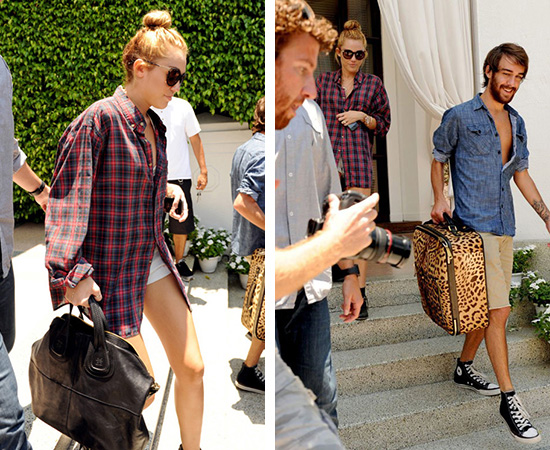 "Look ma … no pants!"
Miley Cyrus was spotted out in Miami on her way to a recording studio on Thursday (Jun 14), and the newly engaged 19-year-old singer was wearing an over-sized flannel shirt … and no pants underneath.
The former "Hannah Montana" actress was accompanied by her friend/assistant Cheyne Thomas, who carried her luggage for her as they exited Miley's hotel.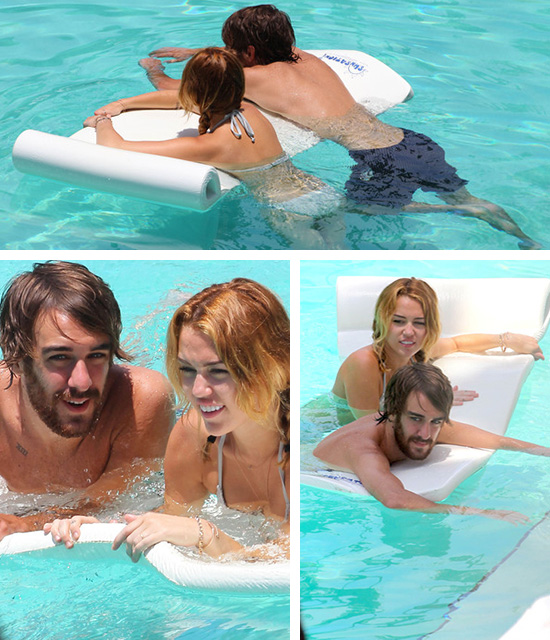 Earlier this week, just days after announcing her engagement to actor Liam Hemsworth … Miley and Cheyne were spotted swimming together at the very same hotel (with Liam nowhere in sight), sparking rumors that she was cheating on her new fiance.
But Miley took to her Twitter later that day to quickly dispel those rumors:
"So now because I am engaged I can't have a friend of the opposite sex? can't have a friend help me out while I'm working alllll day? #dumb

Maybe YOU would have friends too if you'd get your face out the tabloids & start living your own life 🙂 unfortunate.

I love my fiancé & he loves me. All the rest is bull sh*t. We get to live a life of happiness no one can take that away from us!"
Cheyne also fought back against rumors that there is something going on between him and Miley:
"Not sure if u guys realize it or not but you can hang out with ur friend and look happy and be having fun..there's nothing wrong with that.."
We'll take Miley and Cheyne's word for it. For now…
What do you think about Miley's "friend" … Does Liam Hemsworth have anything to worry about?
Be the first to receive breaking news alerts and more stories like this by subscribing to our mailing list.