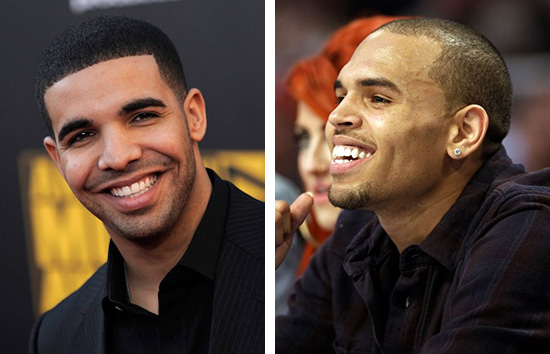 Unless you've been living under a rock or something … by now you've probably heard about the "big fight" between Chris Brown and Drake (allegedly over Rihanna).
READ: Chris Brown Wounded After Fight with Drake … Over Rihanna?!?
Depending on who you ask, Drake was the one who threw the first punch/bottle/whatever in the nightclub big brawl … which went down Wednesday night (Jun 13) at WIP nightclub in New York City.
But Drake has a different side of the story, and his reps say that he WAS NOT "physically" involved with the altercation. In fact, he claims he was on his way out of the club when the first bottles were thrown.
A rep for Drake told TMZ … "Drake did not participate in any wrongdoing of any kind last night at W.i.P. He was on his way out of the club when the altercation began."
The rep added, "[Drake] did not engage in any activity which resulted in injury to person or damage to property."
Sources originally told TMZ that the fight actually started after Chris Brown and rapper Meek Mill (who was sitting at Drake's table) started trash talking each other.
One source initially told the website that Meek Mill was actually the one who hit Chris in the face with a bottle, which left a huge gash on his chin that had to reportedly be treated with stitches.
But get this … even though Drake's reps are adamant that the Young Money rapper wasn't responsible for any of the punches and bottle-throwing … he did technically "start" the fight.
Within hours, TMZ followed up with another report, stating that Drake "flashed his middle finger, engaged in serious trash talk, and drafted several other rappers to join his posse … minutes before the all out brawl with Chris Brown, according to multiple witnesses in the club."
We're told the tension started building when Drake gave the middle finger to one of Chris' bodyguards and shouted … "I'm about to go whoop that ass!" Chris' entourage then returned fire with a few hand gestures of their own.

Witnesses — who were very close to the action — tell us that Drake felt disrespected … even though he started the exchange … and went to get backup from his boys Meek Mill, Juelz Santana, and Trav B.

At this point, we're told Drake got loud and shouted at Chris … "You be on that ho s**t on Twitter n***a" — a clear reference to a recent Twitter war between Chris, Drake, and Meek … all over who's banging Rihanna.

Moments later we're told Chris' security guards got irate, pushing and shoving began between Meek, Juelz and Chris' posse — and you know the rest.

Interestingly, everyone agrees Drake never got physically involved in the brawl — even though his mouth … and finger … sparked it all.
So in other words, that statement from Drake's rep (see above) was  bullsh*t … Drake definitely started that fight. A fight that he wasn't even man enough to finish.
Your thoughts?

Be the first to receive breaking news alerts and more stories like this by subscribing to our mailing list.