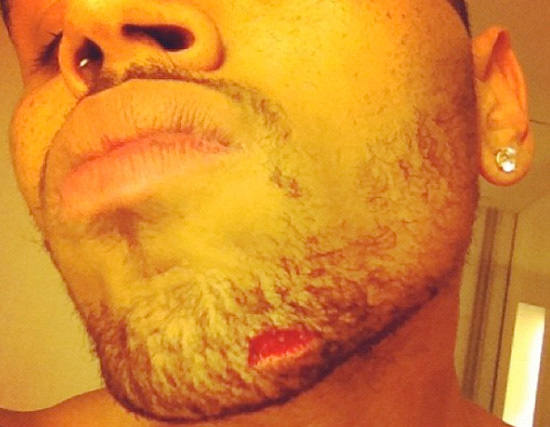 Sh*t just got EXTRA real between Chris Brown and Drake!
While partying at a nightclub in New York City last night (Wed Jun 13) … Chris Brown was injured (see above) after he got into huge fight with Drake, and rumor has it that the brawl was over — you guessed it — RIHANNA!
According to various reports (from TMZ, NY Post, etc.), either Drake or someone from his camp threw a bottle at Chris, and that's when all hell broke loose.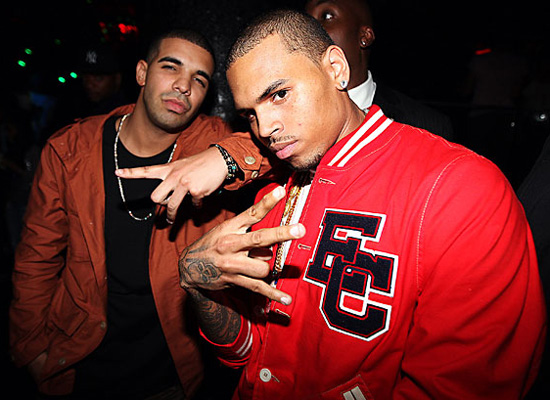 TMZ reported:
…the two singers' crews got into a fight at WIP nightclub — 5 people were injured in the melee. NYPD arrived on the scene after receiving a call between 4 and 5am. Chris and Drake were not present when cops arrived.

We're told there were no critical injuries … just bumps, bruises and lacerations. No arrests were made.

There are reports the two started throwing blows (and bottles!) over Chris' ex girlfriend, Rihanna, who Drake is rumored to have hooked up with.

NYPD arrived on the scene after receiving a call between 4 and 5am. Chris and Drake were not present when cops arrived.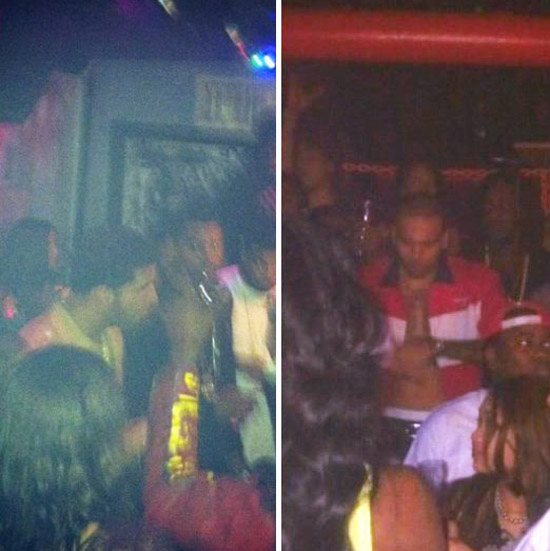 But the New York Post had a slightly different (and more detailed) version of events:
A source connected to the club told The Post the fight kicked off as the last song was playing, right before 4 a.m.

"They were on opposite sides of the room, Drake went over to the middle of the club to talk to someone, then words were exchanged with Chris and his entourage," the source said.

Drake told Brown, "I'm f–kng the love of your life [Rihanna], deal with it," a witness told The Post. "It looked like Drake's entourage started it. Both Chris and Drake had their own security with them," the source said.

The source said someone from Drake's entourage, possibly the singer himself, threw a bottle. "Once the bottle was thrown, all hell broke loose and there were more bottles thrown."

Brown was pulled out of the fray by his own security and helped out of the club while Drake was pulled to the back of the club, the source said. "[Drake] was one of the last out of W.I.P."

The source said police were already at the scene because it was closing time and that they "were on it in seconds and began getting everyone out of the club."

"Chris was not taken to hospital in an ambulance," the source said.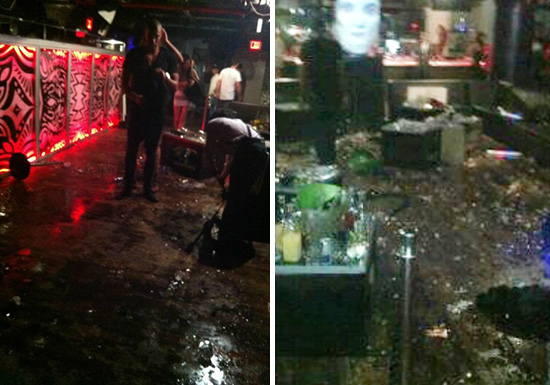 It isn't clear whether or not Drake was actually physically involved with the altercation, but Global Grind is reporting that the fight started after Chris sent a bottle over to Drake's table:
Allegedly the fight started when Chris Brown sent a bottle over to Drake. That's when the Toronto rapper went face to face in the club with Chris and began arguing about Rihanna.

Some believe Meek Mill may have instigated the fight, who was also in the club hanging out with Drake.
With so many conflicting stories from so many different "sources" and "witnesses" it's really hard to understand what actually went down.
But one thing is for sure … Chris Brown definitely got into a fight with Drake's people, bottles were definitely thrown, and Chris has a pretty nice-sized gash on his chin to prove it.
And it all started over Rihanna, who has previously been linked to BOTH artists.
READ: Chris Brown, Meek Mill and Drake Twitter Beefing Over Rihanna?
After the melee, Breezy jumped on Twitter and went IN like a curfew:
N**gas throwing bottles! Y'all n**gaz weak!

Ok! N**gas stand behind security!!!! Ok! U don't pay them enough!

N**gas hiding in the bathroom b*tch a** n**gas! … And I'm the singer?

Bottles? It's nothing! LOL … N**gas is p**sy!

How u party wit a rich nigga that hate? Lol…. Throwing bottles like girls? #shameonya!
We wonder what Rihanna thinks about all this. Her last tweet — "Pretty bitches are so annoying" (an autographed pic of RuPaul) — was sent out at around 1:30 AM, hours before the brawl started.
What do YOU think about Chris Brown and Drake fighting (now physically) over Rihanna?
Be the first to receive breaking news alerts and more stories like this by subscribing to our mailing list.