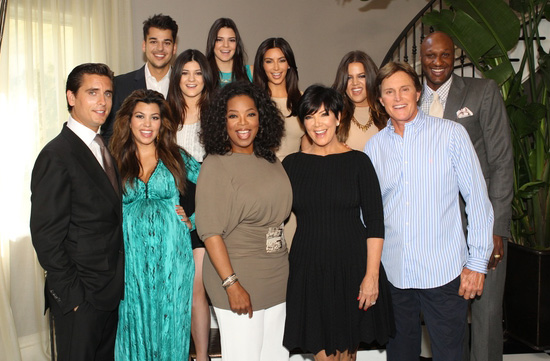 Despite what their critics may say, The Kardashian Klan are still relevant in pop culture … so much so, that they are going to be appearing on queen of talk Oprah Winfrey's show the "Next Chapter."
The entire family, including older sisters Kim, Kourtney and Khloe Kardashian, their younger brother Rob Kardashian, their little sisters Kendall and Kylie Jenner, and mom and step-dad Kris and Bruce Jenner, will all meet Winfrey and talk with her for the first time, and no topic — including Kim's infamous 72-day marriage to her husband Kris Humphries — will be off limits.
Kourtney and Khloe's significant others Scott Disick and Lamar Odom will also be on hand for the chat, which is set to air Sunday (Jun 17) on OWN's "Next Chapter."
Oprah wrote on her website today:
Ok my friends I had the longest interviewing session I can ever recall, talking to ALLLLLLLL the Kardashians. I had never met them, nor seen the show.

I did a full on Kardashian Kram in preparation, watching major shows from every season. I genuinely wanted to know why they have become a cultural phenomenon? Why do so many people love to watch their every move and why do so many others love to hate them. Are they completely ego centered? Are they really "famous for being famous" or is there something more?

I "GOT IT" … those answers +more. Those of you who watch the show know they hold nothing back. This interview I'd say was another level of forthrightness and honesty. Who surprised me the most? Scott. Lamar and Khloe. Kim.

Everyone who's asked was the marriage a publicity stunt? Why did she leave after 72 days? Her answer leveled me.
Check out the preview clip below:
Be sure to check out the interview when it airs this Sunday (Jun 17) at 8pm EST!
Be the first to receive breaking news alerts and more stories like this by subscribing to our mailing list.