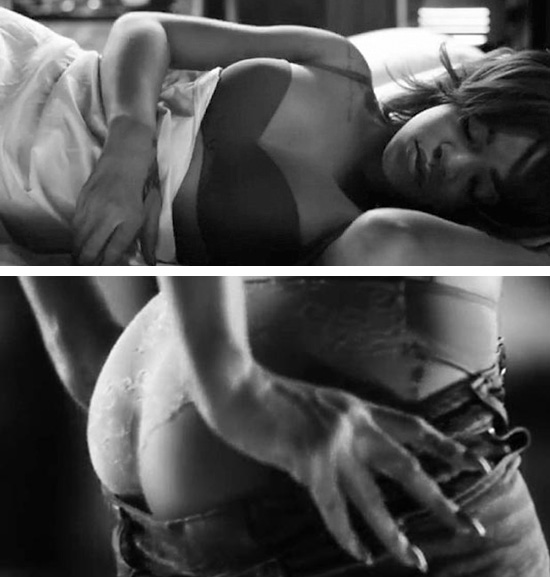 "Good Girl Gone Bad" singer Rhianna is none to pleased with British newspaper The Sun after the UK tabloid recently claimed that she used a "body double" for a recent Armani commercial ad.
The commercial shows a nearly nude Rihanna rolling around in Armani undies while she's apparently having a nightmare … but according to The Sun's story, the shots of Rihanna's booty aren't really hers — they belong to model Jahnassa Aicken, who they claim was instructed to sign a non-disclosure agreement preventing her from spilling the beans about her modest fee and the job itself.
But the paper didn't stop there … they further implied that Aicken was cast for the ad after she appeared as a stand-in for the 'singer in her controversial "We Found Love" video shoot in Northern Island.
Highly insulted by The Sun's insinuations that she used a body double for her racy Armani ad, Rihanna lashed out at the news rag, tweeted:
Ok @thesunnewspaper , this is the only way I could say this to you!!! FUCK YOU….AND yo baggy ass condom

— Rihanna (@rihanna) June 11, 2012
Who is Jahnassa — Rihanna (@rihanna) June 11, 2012
Does she have a tat on her hand too — Rihanna (@rihanna) June 11, 2012
Ok enough of that! I coulda been more clever about it, but I was lazy

— Rihanna (@rihanna) June 11, 2012
This isn't the first time Rihanna has unleashed a Twitter tirade against The Sun.
After the newspaper suggested that she would cancel her UK festival appearance due to extreme exhaustion, she tweeted: "The Sun Newspaper is like a f**kin ass hair, full of s**t!!!!!!"
Rihanna always tells it like it is, doesn't she?
Be the first to receive breaking news alerts and more stories like this by subscribing to our mailing list.