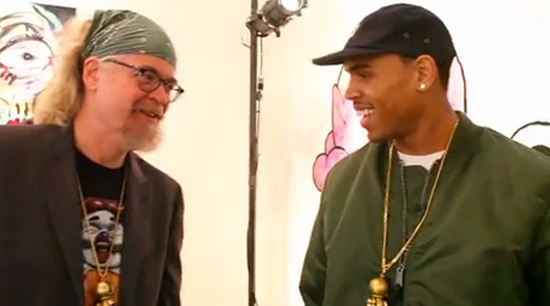 Chris Brown swore off doing interviews this year (so that he could "focus on his music" and get his career back on track) … but apparently the R&B singer ditched his "No Interviews in 2012" policy last month when he talked with Ron English during the unveiling of his 'Dum English' Toy Line.
During the brief (and super exclusive) chat, the Pop singer talked about his childhood, what it takes to become a successful artist, how he plans to transition into directing, and more. Chris also offered advice for other artists who wish to follow in his footsteps.
Watch the interview (and read a few excerpts) below:
Advice for those wanting to follow in his footsteps:
It's basically just your determination as far as an artist is concerned. It's just about your drive and your dream. I think that as far as being an artist, and being an entertainer, for me it's like we never lose our dream. It's kind of what we had as a kid in our minds, we kind of stay young and youthful so that's what keeps us fresh and creative and [allow us to] go forward. I think you just need to have that and have that determination and steady move forward and I think that's what got me to where I'm at. and I'm pretty sure you still have the childhood memory that helps you create the good stuff that you do.

On when he started singing:
I started when I was about 11, singing, and then I just kept going at it and then I told my mom that I just wanted to be focused on that [and] just pursue that for the most part. I just kept going at it from balancing my school work to going to the studio at night [til] 3 [am] in the morning, with adults.

On when he knew he could sing:
I was about 11, and its funny because I was into sports, I was like a jock but I always liked sci-fi movies and anime and I never really liked singing […] and so I just tried it, I started listening to songs and more R&B, more Phil Collins, different kind of music that dealt with singing and I just continued to do it and I was like 'You know what [mom], I really want to do this. I think I can do it' and she was like 'Cool, lets try it' so we went from there.

On his progression:
My progression is to basically to be on the director's side and try to be behind the camera and creating a different world for people to see and be inspired. Like how I was as a kid, watching Michael Jackson, Freddie Starr and even Indiana Jones, certain movies that really grab your [attention] as a kid.
[Spotted at Necole Bitchie — via That Good Hit]
Be the first to receive breaking news alerts and more stories like this by subscribing to our mailing list.