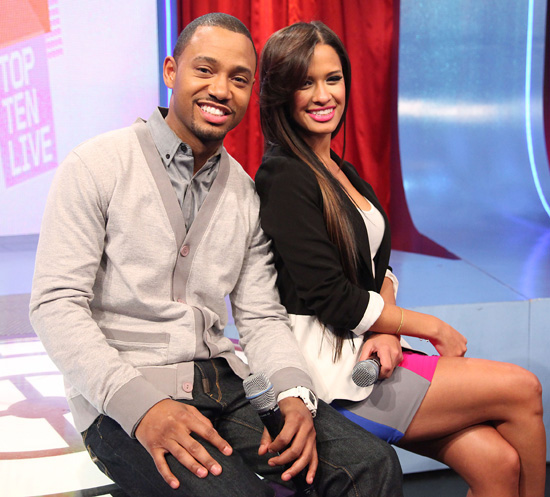 BET personalities Terrence J and Rocsi have confirmed that they will no longer host "106 and Park" after being on the show for seven years.
The dynamic duo made the emotional farewell announcement Tuesday night (May 29), and expressed how much they have enjoyed being a part of the show, with Terrence J (real name: Terrence Jenkins) calling his time on the show an "incredible opportunity."
"The first day I cracked the mic on 106, I was staying on a cot in a basement," Terrence said. Rocsi added, "Until the moment we leave, we pledge to bring you young black culture. It continues to be our honor to do this for you." Terrence then promised viewers that "we have a huge farewell show coming for you guys. We're going to be leaving with a bang."
Stephen Hill, BET's President of Music Programming & Specials, confirmed the news in a statement:
"After seven exciting years, 106 & Park hosts Terrence J and Rocsi announced that they will be leaving the show. It is no secret that there are a number of opportunities coming their way and we're fortunate that they've been with 106 & Park for so long.

"They will be staying on the show for a while, so that we can have a 'victory lap' — a celebration of their years at the helm of 106 & Park — before their departure.

"Terrence J and Rocsi are destined for great success and we at BET Networks will always take pride in being their original home — and be a place where I hope they'll always feel welcome."
While neither Rocsi nor Terrence J have publicly spoken on future plans, they both are reportedly working on acting careers in Hollywood.
Terrence recently starred in the smash hit comedy "Think Like A Man," which was the number one movie in America for three weeks straight and has brought in close to $100 million.
Meanwhile, Rocsi has supporting roles in "Gang of Roses 2: Next Generation" and in the upcoming drama "Soul Ties."
She was recently spotted outside a Los Angeles coffee shop holding hands with Eddie Murphy, prompting rumors she's dating the Hollywood veteran to score better acting roles … however, she denies the rumors, telling Global Grind: "We are not dating we were just getting coffee."
After 106 & Park's original hosts AJ and Free left the show in 2005, another male/female duo — Big Tigger and Julissa Bermudez — hosted until 2006 when Rocsi Diaz and Terrence J took over permanently.
No word from BET just yet on who will replace Rocsi and Terrence J, though we should probably be hearing something soon.
Watch Terrence J and Rocsi bid farewell to BET's "106 & Park" below:
Be the first to receive breaking news alerts and more stories like this by subscribing to our mailing list.