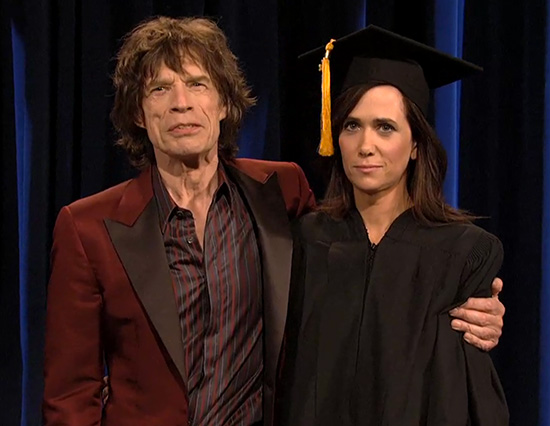 After a seven year run on "Saturday Night Live," comedic staple Kristen Wiig taped her final episode last Saturday night.
Though no official announcement was made prior to Saturday night's taping, the episode's emotional ending was all that was needed to confirm that Wiig had indeed made her last appearance on the show.
In her final sketch, guest host Mick Jagger played the principal of a high school graduation ceremony, and said that Kriaten, dressed in a cap and gown, was "one particular student who is leaving this summer."
The cast (and even SNL executive producer Lorne Michaels) then came alongside her to perform the Rolling Stones' hits "She's A Rainbow" and "Ruby Tuesday," as Wiig appeared to be holding back tears.
Speaking to TIME in 2011 Lorne Michaels said of Wiig, "There are two people who arrived fully formed — her and Dana Carvey — where you saw what they did in their audition and you put it on the air. She has that thing that Phil Hartman and Dan Aykroyd had, which is absolute precision, but also this lightness that isn't what they had."
As well as transitioning to film and starring/co-writing movies "Bridesmaids," "Knocked Up," and "Friends with Kids," Kristen Wiig is famous for her hilarious impersonations of Bjork, Kris Jenner, Taylor Swift, Kathy Lee Gifford and Nancy Pelosi; as well as her limitless range of characters, which included neurotic attention-seeker Penelope, Kat (of the musical duo Garth and Kat, with Fred Armisen), the Target Lady, Aunt Linda and Gilly.
Most recently, Wiig parodied "tanning mom" Patricia Krentcil in a hilarious "Weekend Update" sketch.
Check out our favorite Kristen Wiig sketches below: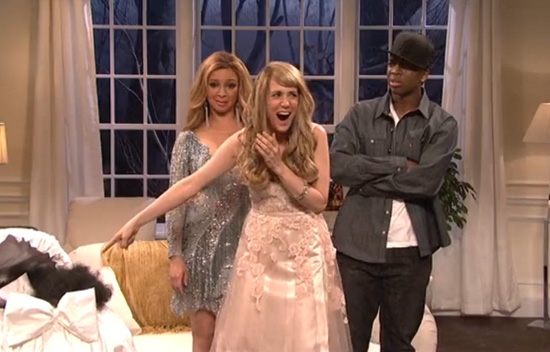 Be the first to receive breaking news alerts and more stories like this by subscribing to our mailing list.