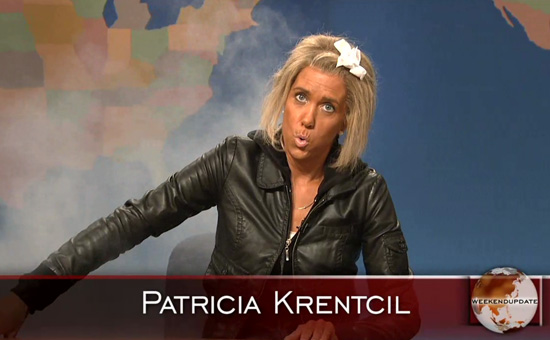 Patricia Krentcil — best known the "tanning mom" — is officially a celebrity.
The dangerously overly tanned 44-year-old mother — who has been making headlines over the past couple of weeks after she allegedly took her 6-year-old daughter into a tanning booth with her — was parodied by "Saturday Night Live" comedienne Kristen Wiig on a recent episode of the hit NBC sketch comedy show.
"Hello Seth, sorry about all the smoke," Wiig said with a hilariously straight face as she rolled onto the set of popular SNL segment 'Weekend Update' with Seth Meyers. "I just came from the tanning salon."
Wiig, covered in bronzer, and wearing a black leather jacket with a white bow on top of her scraggly bleach-blond hair, as she made fun of the New Jersey mom.
"Tanning beds should only be used by responsible adults because you may not know this, Seth, but some people overtan," she said. "Trust me, there are plenty of men in New Jersey who would like to snap into this slim jim."
The REAL Patricia Krentcil — who can apparently take a joke — said of the spoof, "It was well done … The whole thing was hysterical."
Be the first to receive breaking news alerts and more stories like this by subscribing to our mailing list.