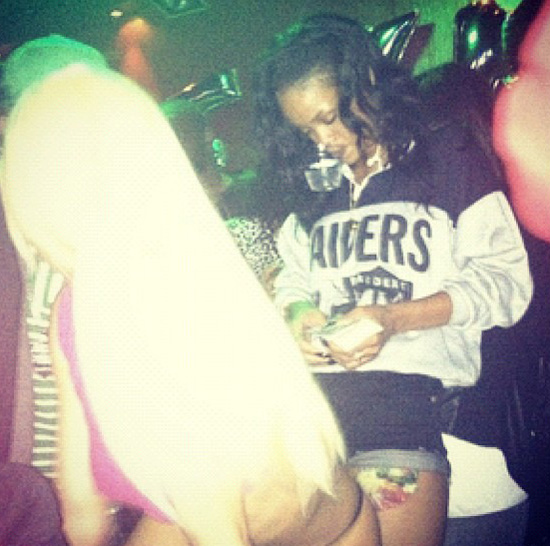 Smoking weed and cussing isn't the only thing Rihanna likes to do in her free time, or when she's stressed.
According to Rihanna … the best way to relieve stress is to hit up the strip club! And the Pop singer did just that last night/this morning in New York.
"Best stress reliever = $tripper$," the 24-year-old singer tweeted in the wee hours of the morning as she posted some photos to Twitter.
The liquor must have been flowing too, because she also tweeted, "My n***a I'm faded…And I don't give a ph**k!"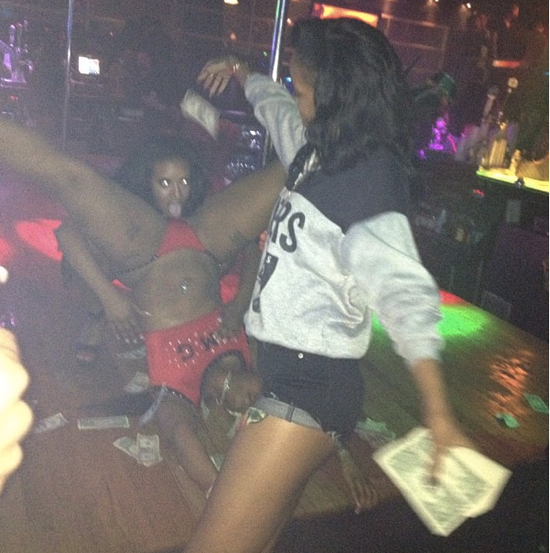 In one of the photos, Rihanna can be seen making it rain on two strippers, and in another, she can be seen grinding on a stripper from behind, while jugging a drink (in her mouth) and holding a wad of cash.
In another tweet, the singer wrote, "#ROCstarshit my daddy would be proud … #RoleModelShit."
Rihanna is most definitely a "Good Girl Gone Bad" … and we kinda like it!
What do you think about Rihanna's "bad girl" image?
Be the first to receive breaking news alerts and more stories like this by subscribing to our mailing list.