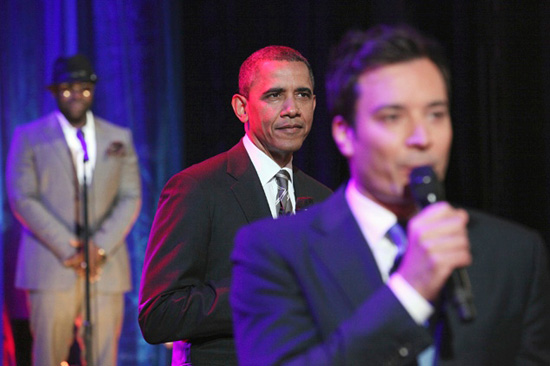 President Barack Obama paid a visit to "Late Night With Jimmy Fallon" Tuesday night (Apr 24) and joined the host for a special installment of "Slow Jamming the News," a running skit on the late-night TV show.
If you're not familiar with slow jamming the news, the segment's name pretty much speaks for itself.
In front of a live audience filled with college students at the University of North Carolina, President Obama talked about student loans while Jimmy Fallon's house band The Roots provided the slow, sensual, blues-inspired background music.
"What we've said is simple: now is not the time to make school more expensive for our young people," Obama said with the music providing a velvet smooth background.
Fallon responded (in his best Barry White voice), "Awww yeah, you should listen to The President, or as I like to call him, 'The Preezy of the United Steezy."
Obama played it cool throughout the jam session and didn't crack a smile even as Fallon joked, "The Barackness monster ain't buyin it."
"The GOP is steady sayin' 'no, no, no,' they should find something new to do like Tim Tebow," sang Roots frontman Tariq Trotter.
The president also sat down with Fallon and discussed higher education, and talked more in depth about his plans to keep student loan interest rates down. He also talked about life in the White House and answered questions from Twitter.

Watch below:
[Video Credit: Yardie]
Be the first to receive breaking news alerts and more stories like this by subscribing to our mailing list.