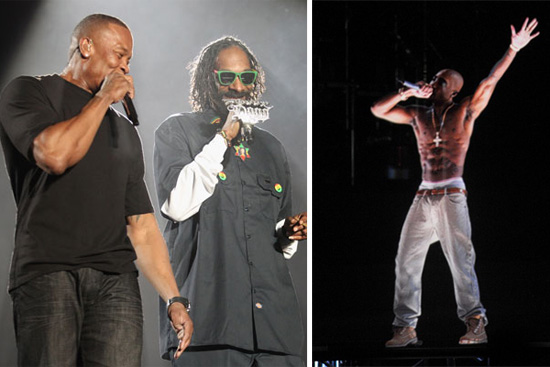 All of the allegations about Tupac Shakur becoming a virtual Hip-Hop legend can be laid to rest. Dr. Dre has finally responded to rumors that the Tupac hologram used last weekend during his and Snoop Dogg's Coachella performance set last weekend would be used for an upcoming tour.
In a video recorded backstage this past Sunday night (Apr 22) during the last night of Coachella 2012, the rap music pioneer explained, "It was strictly for Coachella, get it right. I want to get rid of all the rumors out there. This was not done for a tour."
However, the highly sought after producer did not totally rule out the prospect that the late rapper's 2D image may be used again. "If a tour happens, we'll see, but this was done strictly for Coachella 2012, baby, just for you," he said.
Wrapping up the interview, the "Next Episode" rapper thanked Digital Domain and AV Concepts for making his "dream come to life." Before taking to the stage, the Doc said "Now I gotta get my ass on stage and rock this motherf**ker!"
Be the first to receive breaking news alerts and more stories like this by subscribing to our mailing list.