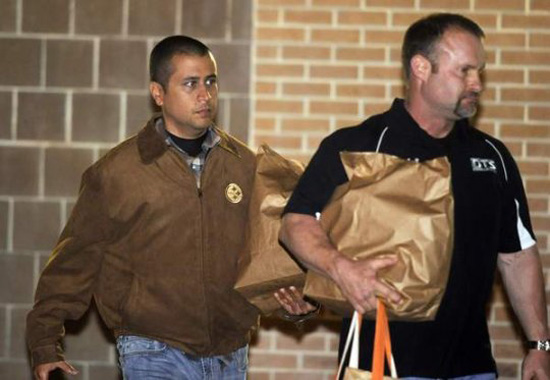 George Zimmerman — the former neighborhood watch volunteer who was recently charged with second degree murder for shooting and killing 17-year-old Trayvon Martin — was released from jail shortly after midnight on Monday morning (Apr 23) after posting $150,000 bond.
Zimmerman, accompanied by an unidentified male, was wearing a brown jacket and blue jeans, and was carrying a paper bag as he walked out of the John E. Polk Correctional Facility. He didn't make eye contact with photographers and was completely silent as he made his way to his vehicle.
Under the conditions of his bail, which were set by Judge Kenneth Lester Jr. last Friday, Zimmerman must wear an electronic monitoring device equipped with GPS tracking.
Zimmerman is allowed to leave the state, however, no matter where he is, he must observe a dusk-to-dawn curfew. He is also prohibited from consuming alcohol or any illegal drugs, and he has been legally banned from possessing a firearm, for very obvious reasons.
Attorney Daryl Parks, who is representing Trayvon Martin's parents, said that while the family respects the judicial process that allows Zimmerman to be released from prison … they are still "devastated by him being able to walk the streets."
"It's with a very, very heavy heart that they've seen him walk freely late last night back into the public," Parks said on CNN.
George Zimmerman stunned a Florida court during his bond hearing on Friday when he took the stand and offered a personal apology to Trayvon Martin's parents, who were sitting in the courtroom.
Addressing Martin's family directly, Zimmerman said, "I am sorry for the loss of your son. I did not know how old he was. I thought he was a little bit younger than I am. I did not know if he was armed or not."
Benjamin Crump, another lawyer for the Martin family, said that Zimmerman's apology was not only self-serving … but poorly timed and insincere.
"The apology was somewhat of a surprise because we had told them this was not the appropriate time, but they just disregarded that, and he went and pandered to the court and the media and gave a very insincere apology," Crump told CNN.
George Zimmerman admitted to murdering Trayvon Martin on the night of February 26th in a gated Sanford, Florida community. He told police he was acting in self-defense under Florida's "Stand Your Ground Law."
For his safety, Zimmerman's current whereabouts are being kept a secret until his next court appearance.
Be the first to receive breaking news alerts and more stories like this by subscribing to our mailing list.