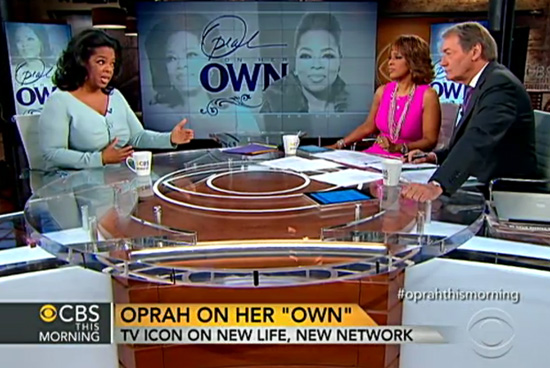 It's no secret that minus that heavily promoted Bobbi Kristina interview … Oprah Winfrey's new TV network "OWN" has been struggling to pull in viewers since its January 2011 launch. And Oprah Winfrey herself now admits that starting her "OWN" TV network was a BIG mistake.
Speaking on "The Early Show" Monday (Apr 2) on CBS, along with her good friend Gayle King, Oprah opened up about the difficulty in starting the network.
"The idea of creating a network was something that I wanted to do. Had I known that it was this difficult, I might have done something else. I didn't think it was going to be easy, but if I knew then what I know now, I might have made different choices. If I were writing a book about it, I could call the book '101 Mistakes."
Oprah also compared her decision to launch the network when she did to "having the wedding when you know you're not ready."
However, Oprah says Saturday Night Live creator Lorne Michaels warned her of the battles she would possibly face concerning her decision to go out on her own.
Winfrey said he told her, "No one wants to see you come off The Oprah Winfrey Show of all those 25 years of success and step right into the network business: You've got to pay your dues."
Now, Oprah says if she could do it over:
"I would have probably waited until I actually finished 'The Oprah Show.' Because from the day that (Discovery Communications boss) David Zaslav came in to see me, I said to him, 'The thing that I'm worried about who's going to lead this train because I can't do it.'"
Last month, Winfrey had to lay off 30 members of her staff (about 20% of her employees), and she also canceled Rosie O'Donnell's talk show after just one season.
Winfrey calls the restructuring of her new company "the most painful" decision she had to make. She also revealed she did not personally fire the employees, but that Human Resources did the job.
So how does Oprah feel about "OWN" now?
"Actually, I feel better about our network own today than I ever have," she said.
Keep hope alive Oprah. Keep hope alive…
Be the first to receive breaking news alerts and more stories like this by subscribing to our mailing list.