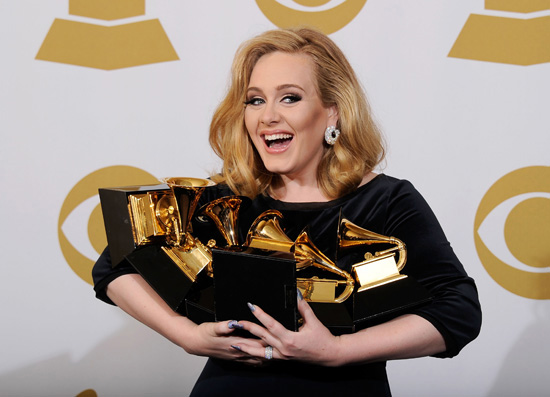 Grammy Award winning artist Adele has revealed that she will be releasing new material at the end of 2012!
Speaking with French radio station NRJ the, singer revealed that she will release a new song this year, but she says that her fans shouldn't expect a new album for another two years.
"There will be a new song, probably coming out at the end of the year. But then it depends how quickly I write some other new songs."
Of a new album she revealed, "It won't be for a good two years" … because "I have to write it! It takes a while," she said.
With all the success of "21," one would think that the Brit Award winner would feel a tad bit of pressure to produce another multi-platinum album. But she's not too worried.
"I never ever expected the success of my first album, let alone how many records 21 has sold," she said. "I don't really feel the pressure for the next record to be big as my last one, as I know it's not really possible…"
She continued, "What's happened with 21 is very rare, anyway. I have to convince with my songs again and that's where the pressure comes from. That's me putting pressure on myself."
"21" has reportedly sold over 18 million copies worldwide as of last month, making it the best-selling music release (in the world) for the year 2011.
That's a pretty tough act to follow.
Be the first to receive breaking news alerts and more stories like this by subscribing to our mailing list.