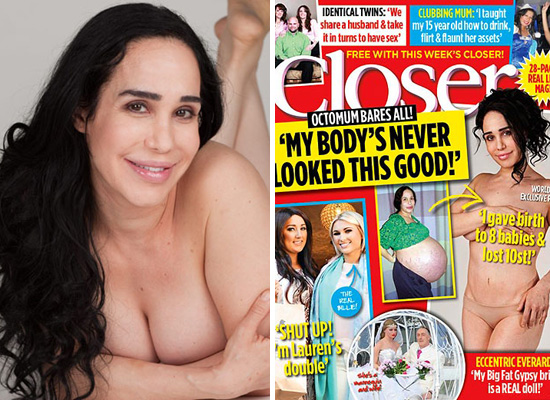 Nadya Suleman aka the "Octomom" says she was only paid $8,000 to pose nude for UK magazine "Closer" — $2,000 less than her rumored $10K payout.
"You wanna know how much I got? I got $8,000," Suleman admitted to Anderson Cooper on an episode of his show that aired Friday (Mar 30). "I have to do what I have to do to take care of my family, and I'm not ashamed. I'm not ashamed at all."
She continued, "Regardless, you have to learn to let go of everyone's perspective of you because you can not please the world. You have to please God — he's the only one I have to answer to at the end of the day — myself and my children. And I have never sacrificed my morals and values. I have laughed at these ridiculous, ludicrous opportunities that I would just never do or engage in; any type of sexual."
READ: Octomom Poses Nude on the Cover of UK Magazine "Closer" for Rent Money
Suleman also admitted that she is "struggling" with her mortgage payments, and she and her 14 children will have to move because of it. As we reported yesterday, Octomom is several months behind on her mortgage, and is just days away from being homeless.
In regards to the disgustingly awkward photoshoot, Nadya says: "I'll be honest, I did it for money."
Be the first to receive breaking news alerts and more stories like this by subscribing to our mailing list.