Remember that Raffles van Exel guy who sold Whitney Houston's casket photo to the National Enquirer?
Well, apparently, not only is he in the business of conning celebrities … but he likes to rip off celebrity websites too!
READ: Raffles van Exel Sold Whitney Houston's Casket Photo to the National Enquirer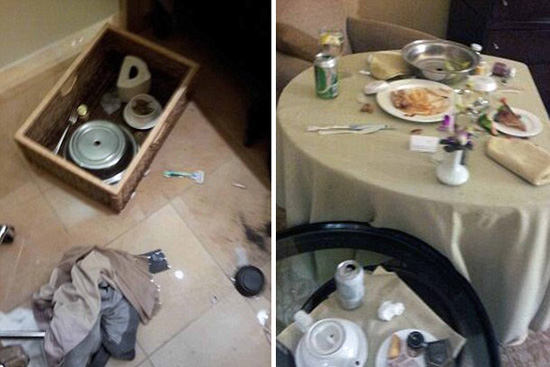 According to Forbes writer Roger Friedman (who first broke the story about van Exel), pictures of Whitney's hotel room that were posted to TMZ shortly after her tragic February 11th death were sent in by van Exel, who probably received a sum of money for the photos, in addition to the rumored $500K he was paid by the Enquirer for the controversial casket photo.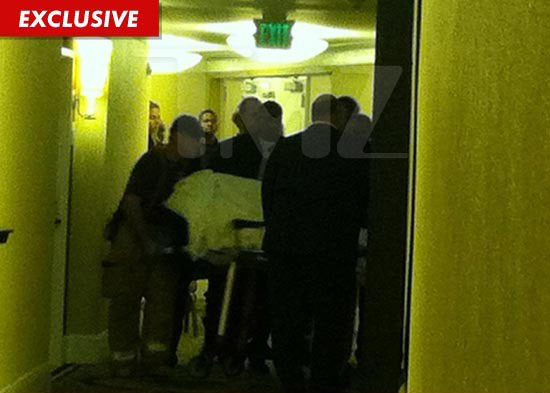 But one of the pictures he sold to the website, which allegedly showed Houston's body covered with a white sheet on a gurney being taken out of the Beverly Hilton Hotel the night of her death is a fake.
In fact, the "body" in the photo isn't even Whitney's body at all. It's her daughter Bobbi Kristina, who was rushed to the hospital twice shortly after her mother's death, and covered her face with the white sheet to avoid unnecessary media attention.
A person who was in the hallway (see picture) tells me the "body" under the white sheet was Bobbi Kristina, Whitney's daughter. She was taken to Cedars Sinai Hospital twice after her mother died. Bobbi Kristina wrapped the sheet over her head so as not to be seen.

Unfortunately, when Whitney's body was removed from the hotel much later, it was not under a sheet, but in an official coroner's body bag–the blue or back kind you see on TV shows that get zipped up. The only person in the group other than family and Houston's publicist Kristen Foster (seen on the far left) was van Exel.

[Forbes]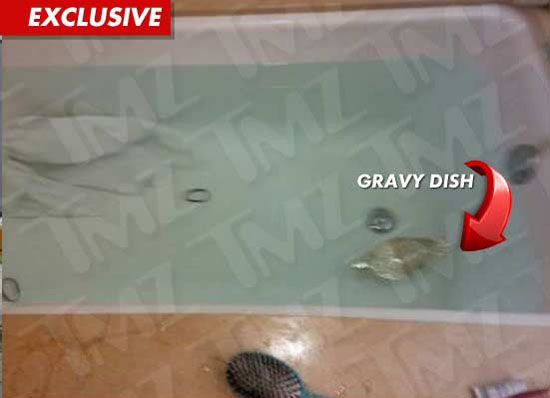 Regarding the other pictures, showing Houston's last meal and the bathtub where her body was found, was also sent in by van Exel, who was one of the only three people who had access to the room, including Pat Houston and her husband Gary (Whitney's brother and sister-in-law/manager).
Many believe Pat Houston is in on Raffles van Exel's cashing in on Whitney's death since she is the one who is basically giving this guy an all access pass to all things Whitney.
Though van Exel isn't a family member, he traveled with the Houstons from L.A. to New Jersey on Tyler Perry's private jet, was invited to both viewings AND the private burial, and apparently he also had access to the hotel suite where Whitney died.
$500,000 (plus the TMZ cash) is a lot of money and we have a strange feeling Pat Houston pocketed some of that too.
This Raffles van Exel guy is something serious.
What do you think about Raffles van Exel, and do you think Pat Houston is on in his latest scam?
Be the first to receive breaking news alerts and more stories like this by subscribing to our mailing list.