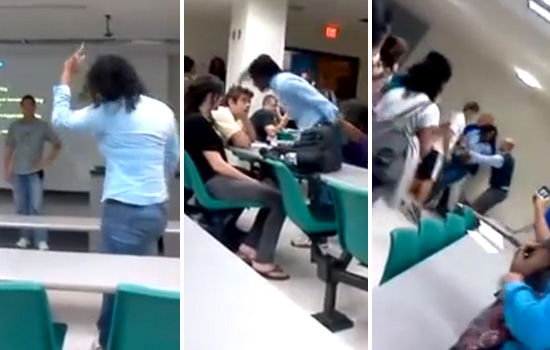 While reviewing for a mid-term exam in evolution class, an FAU (Florida Atlantic University) student totally spazzed out on her teacher and the rest of the class, and even threatened to kill all of them!
Apparently it was all because the teacher couldn't give her a explanation to why evolution killed black people. (WTF???)
From the video's description on YouTube:
"Lunatic in my evolution class asking the most absurd question and gets angry when the Prof (Dr. Kajiura) doesn't know how to answer it.

Context: The slide we were on just before was about Female Sexual Selection. For instance, female peacocks have selection in their mates, preferring the males with the bigger train of feathers.. Somehow she went off on some tangent with a question about how does Evolution play a role in the killing of all black people…

Dr. Kajiura tried to answer her question even though he had no idea what she was talking about. She repeated her question 4-5 more times and it turned into this craziness you see here… Clearly, this person has some SERIOUS emotional issues within herself and the discussion of PEACOCKS was the catalyst to the unleashing of this insanity.

She was escorted out of class and I heard she was tasered and arrested by the police. Today was our review day before a test on Thursday and students were getting irritated by her wasting our time. No one understood what her point was… Craziest thing I've ever seen.
Wow … That sh*t cray!
Whatever made this chick lose her mind like this had nothing to do with black people or evolution.
Be the first to receive breaking news alerts and more stories like this by subscribing to our mailing list.