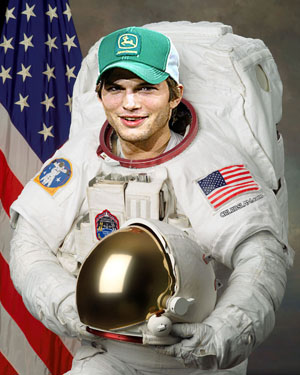 "Two and a Half Men" star Ashton Kutcher is going to outer space!
Demi Moore's estranged husband will be taking the trip aboard Sir Richard Branson's Virgin Galactic SpaceShipTwo as early as next year.
Taking to his blog to promote the trip and announce that Kutcher would be joining, Branson wrote:
Great news today from our Astronaut Relations team at Virgin Galactic: our 500th future astronaut customer has just signed up! Even better news is that number 500 is Ashton Kutcher…I gave Ashton a quick call to congratulate and welcome him. He is as thrilled as we are at the prospect of being among the first to cross the final frontier (and back!) with us and to experience the magic of space for himself

Ashton is joining a fast expanding group of true pioneers who are on their way to a life changing experience and a place in the history books. It's great to have him on board!
According to reports, other celebrities might also be joining Ashton Kutcher and Richard Branson on their journey to space, including Katy Perry, Tom Hanks, Brad Pitt and Angelina Jolie.
The cost of the round-trip journey to space and back to earth costs around $200,000 a person.
A launch date has yet to be set, but we hear the SpaceShipTwo will be ready for test flights sometime later this year.
Sounds like fun, but we're not too sure about traveling to space … and the fact that all of these big time celebrities will be on board. What if something goes wrong?
[Image Credit: CelebSlam]
What do you think about this? Would you pay $200,000 to travel to space?
Be the first to receive breaking news alerts and more stories like this by subscribing to our mailing list.