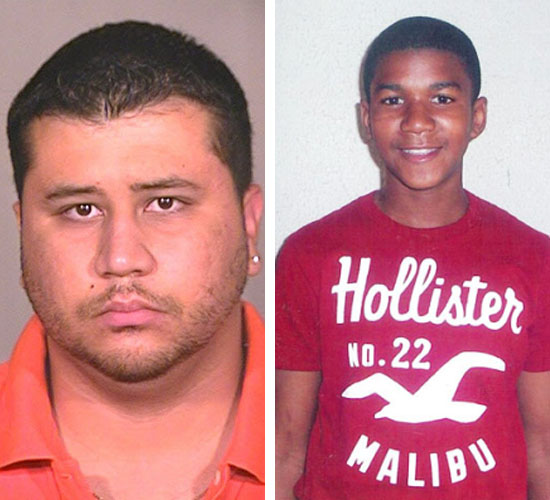 Unless you've been living under a rock for the past couple of weeks, you've probably heard about 17-year-old Trayvon Martin, who was tragically killed last month at the hands of a demented gun-toting neighborhood watch leader at an upscale neighborhood in Sanford, FL.
After repeated requests for the release of the audio recordings of the numerous 911 calls that were placed that night, the Sanford police department finally released the recordings over the weekend.
Listen to the calls below:
[audio:http://gossiponthis.com/wp-content/uploads/2012/03/TM911audio.mp3] [audio:http://gossiponthis.com/wp-content/uploads/2012/03/spdtrayvon1.mp3] [audio:http://gossiponthis.com/wp-content/uploads/2012/03/spdtrayvon2.mp3] [audio:http://gossiponthis.com/wp-content/uploads/2012/03/spdtrayvon3.mp3] [audio:http://gossiponthis.com/wp-content/uploads/2012/03/spdtrayvon4.mp3] [audio:http://gossiponthis.com/wp-content/uploads/2012/03/spdtrayvon5.mp3]
According to numerous confirmed reports, Trayvon was watching the 2012 NBA All-Star game on Sunday, February 26th 2012 while visiting his father in a gated community in Sanford, FL (near Orlando).
Trayvon, who had celebrated his 17th birthday just weeks before, left the residence to walk to a nearby convenience store to buy a can of iced tea for himself, and a bag of skittles for his younger brother.
As he was walking back to the home, Trayvon (a young black man) was spotted by the neighborhood watch leader — a 28-year-old white man named George Zimmerman — who called 911 to report a "suspicious" person was walking around.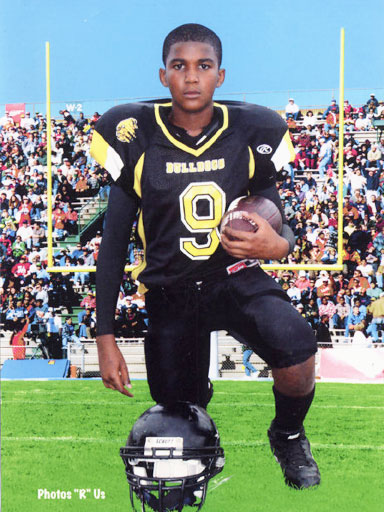 "This guy looks like he's up to no good, or he's on drugs or something," Zimmerman told the 911 operator. "It's raining and he's just walking around looking at houses."
"He's just staring, looking at all the houses," Zimmerman said. "Now he's coming toward me. He's got his hand in his waistband. Something's wrong with him."
The 911 operator asked Zimmerman to describe the young man's race and age, to which he responded, "He's a black male … late teens."
Zimmerman, who described Trayvon as wearing a hoodie and sweatpants or jeans, continued, "He's coming to check me out. He's got something in his hands. I don't know what his deal is. Can we get an officer over here?"
"These assholes always get away," he calmly told the 911 operator. "Shit, he's running."
Zimmerman can then be heard getting out of his car in an attempt to chase down Trayvon, despite the dispatcher telling him that an officer was being sent.
"Are you following him?" asks the dispatcher, to which Zimmerman calmly responded, "Yeah."
"Okay, we don't need you to do that," said the dispatcher.
"Okay," replied Zimmerman, who continued to follow Trayvon anyway.
Within moments, a herd of 911 emergency calls were placed from inside the gated, upscale community describing a scuffle, cries for help and a gunshot.
In one of the recordings, one concerned neighbor told the dispatcher that two guys were wrestling right behind his back porch, and one of them was yelling for help. Within seconds, the male caller reported that he believed that one of the men — "the black guy" — was dead.
"I'm pretty sure the guy is dead … Oh, my God! … The black guy looks like he's been shot and he's dead."
In another recording, the caller told dispatchers that Zimmerman was actually on top of Trayvon, for whatever reason.
"The guy on top has a white T-shirt," a female caller said.
"Is he on top of someone?" the operator asks.
"Mmmhmmm," the caller responds.
Yet another caller can be heard saying, "Someone was screaming 'Help! help! help!' Then I heard a gunshot."
Another caller, a teenage boy, said that he was walking his dog when he saw a helpless Trayvon lying on the ground. "He was screaming," the teenager said.
Then he told the operator that he had heard a single gunshot, and the screaming had stopped.
At that very moment, Trayvon Martin — an innocent, unarmed teenager — was dead.
A woman whose back door was steps away from where Trayvon was gunned down said she heard a boy crying, then a gunshot … and then silence.
"I heard someone crying – not boo-hoo crying, but scared or terrified or hurt maybe," the woman said. "To me, it was a child."
After the shooting, Zimmerman was taken in for questioning — without actually being arrested — where he admitted to shooting Trayvon in the chest and claimed self-defense. He was released shortly thereafter without any charges being filed.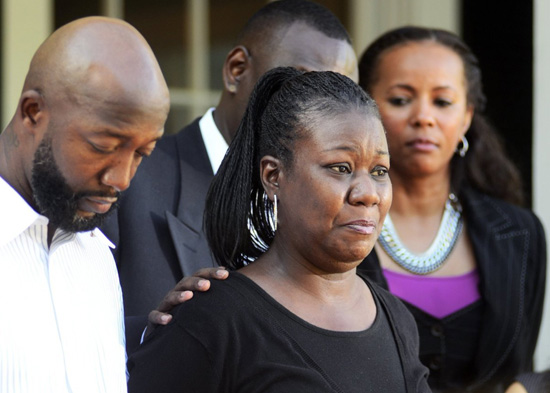 Trayvon Martin's family and their lawyers were given the opportunity to listen to the audio before it was made public.
Before the release of the audio recordings, police tried to say that Zimmerman was the one who was heard screaming, however now that we — the public — can hear the tapes for ourselves … we all now know the truth.
"You hear a shot, a clear shot, that we can only assume is a warning shot," said Natalie Jackson, a family attorney. "Then a 17-year-old boy is begging for his life. Everything tells me that that was Trayvon Martin."
Tracy Martin — the teenager's father — broke down crying as he listened to the audio on Friday, the family lawyers said. "My son was crying for help, and he still shot him," Mr. Martin said, according to Benjamin Crump, another family attorney.
Barely lasting through half the tapes, Trayvon's mother Sybrina Fulton ran out of the room screaming and crying.
Trayvon's father and his mother Sybrina Fulton are now accusing Sanford police of mishandling the investigation and have criticized them for not arresting Zimmerman, despite his claims of self defense.
Martin wasn't armed, and his parents believe that Zimmerman wasn't (and weeks later, still hasn't been) arrested simply because he is white and their son was black.
The entire situation has sparked a huge wave of public outrage across the country, and requests have been made that the Department of Justice step in and get involved with the case.
A petition pleading for Zimmerman to be charged with murder that was posted to Change.org has over 500,000 signatures (at the time this story was published) and counting.
That's over half a million people who believe Trayvon Martin's death was an act of violence, and not "self defense" as George Zimmerman claims.
"Do we really believe that if Trayvon Martin would have pulled the trigger, he would not be arrested?" said family attorney Benjamin Crump. "This is obviously a cover-up, and we need a sweeping overhaul of the Sanford Police Department."
Be the first to receive breaking news alerts and more stories like this by subscribing to our mailing list.