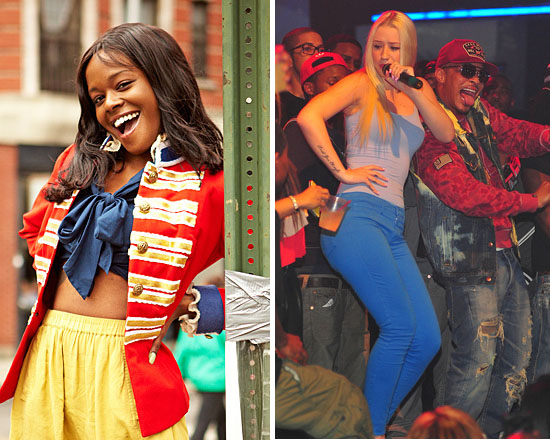 Female rappers Iggy Azalea and Azealia Banks may have similar names, but that's about it.
Their rap styles are totally different, they most definitely do NOT look alike (Azealia is black … Iggy is white), and on top of all of that, they absolutely hate each other's guts.
The rap newcomers have been beefing for a while, mainly over a controversial line in Iggy Azalea's song in which she refers to herself as a "runaway slave master."
However, the beef grew even bigger earlier this month after Iggy Azalea — who just got signed to T.I.'s Grand Hustle record label — landed the cover of XXL Magazine's "Freshman 2012" cover.
"How can you endorse a white woman who called herself a 'runaway slave master?'" Azealia Banks wrote on Twitter in response to the cover. "Sorry guys. But I'm pro black girl."
Iggy was asked about the beef during a joint interview with her new boss, Grand Hustle CEO T.I., and she politely told Atlanta radio station Hot 107.9:
"This is my day and it's my achievement. You have to work to have your own achievements, with all due respect.Instead of worrying about who else is on there, you should just be happy that I'm on there as a woman for women, and if you want to have your own achievement, work and have your own achievement. I can't take what's meant for you and you can't take what's meant for me."
T.I., on the other hand, wasn't so polite with his response to the beef between his artist and another up and coming female rapper:
"Strategically if she really cares about a freshmen cover maybe she could hope that she'll suck enough to get shelved and then next year when the freshmen cover comes back around, maybe she'll still be a freshman. If you spend half of your day getting money and the other half of your day counting money, you ain't got no time in your day to worry about nobody else."
Obviously Azealia Banks didn't take Tip's unfriendly comments too lightly, so she lashed out via Twitter in response, calling the rapper "corny," and accusing him of trying to sweep Iggy Azalea's racist "runaway slave master" line under the rug:
Lol I NEVER needed the next nigga to sit up on a radio show with me and defend me.

Furthermore, n*ggas r sitting up here trying to mask/defend what homegirl said. F*ck outta here.

Everybody got something slick to say, but no one got an explanation

Come on T.I. N*ggas is not scared of u and whatever shit u got to say on some radio show.

@tip you corny for that one

LMFAOO how u a grown man commenting on what's going on between two girls. Come on son. Stop it.

Ruin my career: what f*cking ever… Y'all wish.
What do you think about this Azealia Banks and Iggy Azalea beef?



Be the first to receive breaking news alerts and more stories like this by subscribing to our mailing list.