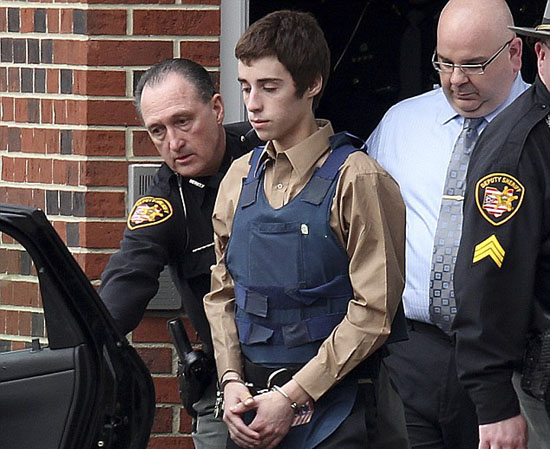 The teenager who opened fire at an Ohio school had his first court hearing Tuesday (Feb 28), just one day after the tragic accident that killed three students and wounded two others.
17-year-old Thomas Lane — also known as "T.J." — admitted to firing 10 shots with a .22-calibor pistol Monday morning at Chardon High School. The troubled young man told investigators that he didn't know his victims and they were chosen at random.
READ: Ohio School Shooting: 5 Chardon High School Students Shot, 3 Dead Following Violent Shooting Rampage
According to CBS News, "Lane told investigators he stole the gun he used from his uncle, who had legally obtained it. Sources say in fact there were lots of legal guns around. About two dozen weapons were discovered in FBI searches of Lane's relatives' homes."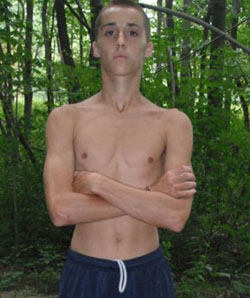 The troubled young man's face "twitched lightly" as the prosecutor described the heinous crime. He also sniffled and half-closed his eyes as deputies walked him out of the court room following the hearing.
Nate Mueller, a former friend of TJ's, identified the young man to police and provided intimate details about the shooting to police and various local news media.
Mueller says he was sitting with a group of friends having breakfast when he claims T.J. approached their table and began his shooting rampage at around 7:30 am.
"My friends were crawling on the floor, and one of my friends was bent over the table, and he was shot," Nate told the Cleveland Plain-Dealer. "It was almost like a firecracker went off. I turned around and saw (T.J.) standing with a gun and I saw him take a shot."
Lane "was silent the whole time" during the shooting, Mueller said. "That's what made it so random."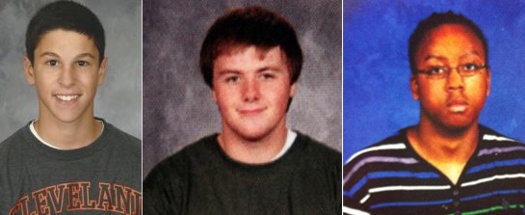 Demetrius Hewlin, a student from Chardon High School became the third fatality from the shooting after he died Tuesday morning.
Russell King passed away after being declared brain dead early Tuesday morning, following Daniel Parmertor, who died the day of the shooting.
According to various reports, King and Parmertor were both students at a vocational school called The Auburn Career Center. They were waiting in the Chardon High cafeteria for a bus for their daily 15-minute ride when they were fatally shot.
So far, no motive has been announced.
"I feel sorry not only for that family but all the families that are affected by this," Police Chief Tim McKenna said. "Chardon will take care of Chardon," he said, characterizing himself as a "hometown boy."
Be the first to receive breaking news alerts and more stories like this by subscribing to our mailing list.