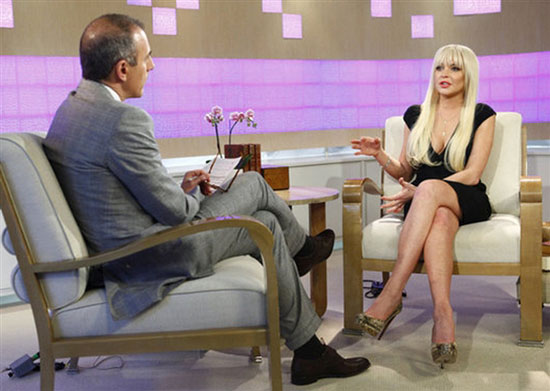 No more partying for Lindsay Lohan! At least that's what she told Matt Lauer in a recent interview on the "Today" show.
"I still need to go through the process of proving myself," said Lohan, who's hosting Saturday Night Live this weekend.
She adds, "You know, with SNL, being on time, being, you know, keeping my – can't say the word – but stuff together."
Further proving that Lindsay may very well be getting her "stuff" together, L.A. Superior Court Judge Stephanie Sautner told the actress at a court hearing last week that she was proud of her progress. "You seem to be getting your life back on track," she said.
Now that her legal problems are almost over, Lindsay says she's evolved into a totally different person, and no longer wants to be a part of the party scene that got her into so much trouble.
"That's not my thing anymore," she says. "I went out, actually, a few months ago with a friend. And I was so uncomfortable. Not because I felt tempted, just because it was just the same thing that it always was before. And it just wasn't fun for me. I've become more of a homebody, and I like that."
The full interview is set to air tomorrow morning on NBC. Lindsay is also set to host SNL this Saturday night.
Do you believe Lindsay Lohan has really changed?
And will you be checking her out this weekend on Saturday Night Live?
Be the first to receive breaking news alerts and more stories like this by subscribing to our mailing list.