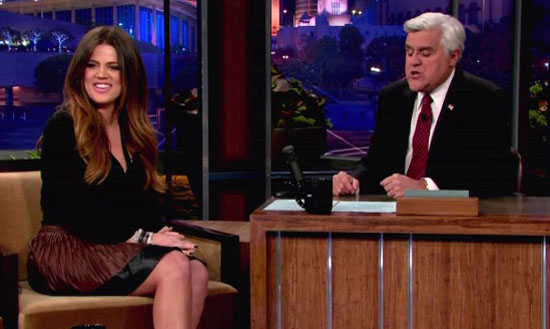 In case you didn't know, Khloe Kardashian doesn't like her sister's ex husband Kris Humphries, and she says she never has. Not even from day one.
Khloe recently appeared on "The Tonight Show" to promote the second season of "Khloe & Lamar," and recalled to host Jay Leno the first time she met The Hump. And apparently, things didn't go so well.
"When I met Kris the very first time, I had just landed in New York and it was late at night … and he was in Kourtney and Kim's suite," Khloe said. "And I went in there to say, 'Hi' because Kim was like, 'Oh, I wanna introduce you to my friend,'" she recalled.
"They'd just started dating. And you know, one of the first things that came out of his mouth — like within the first five minutes — was, 'So, how much you getting paid to fake your marriage? Like how long are you gonna keep this up for?' … I was like, 'Dude, I don't know if you're trying to make me laugh,'" she said, adding Kris "just rubbed me the wrong way. So, ever since then, I had a very defensive wall brought up."
Of course Khloe's bad blood with Kris eventually spread to Kim, but Khloe says she had to be honest with her sister, rather than tell her what she wanted to hear.
"I'm gonna be a good sister … but I can't lie and say this is perfect if I feel in my heart I just didn't agree with it," Khloe explained.
Watch a clip from Khloe's interview with Jay Leno below:
Be the first to receive breaking news alerts and more stories like this by subscribing to our mailing list.