UPDATE: A third student — Demetrius Hewlin — has also died following the shooting.
Parents who had children enrolled at Chardon High School in Ohio were shocked to learn that moments after they dropped their kids off, a shooting had occurred.
The shocking reports came early Monday morning. At least five students were critically injured in the school shooting at Chardon High School in northeast Ohio, according to the Associated Press and various local news reports.
Within 24 hours, two students had died, and the other three are still being treated at the hospital.
The school shooting apparently happened while students were in the cafeteria eating breakfast. A boy (the shooter) "stood up and started shooting, and then it was chaos," a parent told reporters.
A teacher who saw the shooting as it happened tried to chase the shooter down, but he got away.
Nate Mueller, a student at the school who narrowly escaped death when a bullet grazed his ear, eventually identified the shooter to police as fellow student T.J. Lane.
Mueller says he was sitting with a group of friends having breakfast when he claims T.J. approached their table and began his shooting rampage at around 7:30 am.
"My friends were crawling on the floor, and one of my friends was bent over the table, and he was shot," Nate told the Cleveland Plain-Dealer. "It was almost like a firecracker went off. I turned around and saw (T.J.) standing with a gun and I saw him take a shot."
According Nate's story, one his friends, Russell King had recently started dating T.J.'s ex-girlfriend. Nate, Russell and T.J. had all been friends in middle school, but they all went their separate ways when they got to high school.
Nate described T.J. as a "quiet kid" who got into a "Goth phase" and pretty much kept to himself. "He didn't talk to that many people anymore. He never egged anybody on. He just went about his business," explained Nate.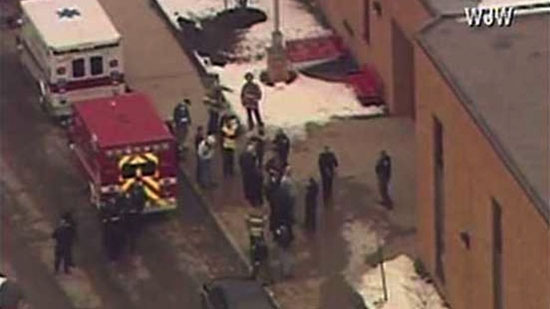 During the completely random shooting, Lane "was silent the whole time," Mueller said. "That's what made it so random."
Nate Mueller also recalled how he escaped from the gunfire by running out of the building and hiding behind a car, where he quickly called 911.
Nate's friend Russell however, wasn't so lucky. He was pronounced brain dead early Tuesday, becoming the second casualty in the shooting rampage.
The first casualty was Daniel Parmertor, a computer student who was fatally shot while waiting for a bus to take him to a nearby vocational center. He was airlifted from the scene by helicopters and later died at a nearby hospital.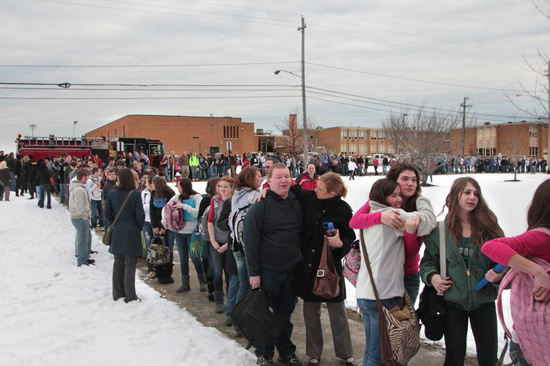 One other student was in critical condition as of Monday afternoon, while one was in serious condition, and one was in stable condition.
T.J. Lane — who wasn't a student at Chardon High, but was regularly bused from the school to a nearby alternative school for 7th through 12th graders — was eventually arrested by authorities near his car about a half-mile from the school. He wasn't immediately charged
According to family lawyer Robert Farnacci, Lane's family is mourning "this terrible loss for their community." He later said in an interview that Lane "pretty much sticks to himself but does have some friends and has never been in trouble over anything that we know about."
U.S. Secretary of Education Arne Duncan called the shooting an "unspeakable tragedy."
"It's still too early to know yet why a student took a firearm to school and shot his classmates," Duncan said in a statement. "But preliminary reports indicate that if it were not for the extraordinary courage of a teacher who chased the shooter out of the school, and if not for the speedy reaction of school leaders, the toll of these shootings could have been even worse."
FBI officials have yet to comment on a motive, and Police Chief Tim McKenna says that the investigation will take a while to complete. "Bear with us," he said.
According to Chardon School Superintendent Joe Bergant, classes were canceled Tuesday, the day after the shooting, and grief counselors will be available to students and families.
"If you haven't hugged or kissed your kid in the last couple of days, take that time," he told the Associated Press.
Be the first to receive breaking news alerts and more stories like this by subscribing to our mailing list.