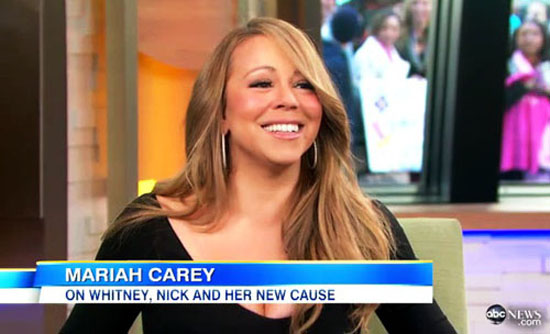 Mariah Carey dropped by ABC's "Good Morning America" Tuesday (Feb 211) for an interview where she talked about her recent weight loss and endorsement with Jenny Craig, her new album, her husband Nick Cannon and more.
The singer also briefly discussed the death of Mariah's good friend Whitney Houston, who she met and instantly became friends in 1999 after collaborating on a duet at the Oscars.
"I'm almost incapable of talking about this still," said Mariah, adding that she was "heartbroken and in tears" when she learned of Houston's passing.
"It's very heavy emotionally, especially just looking at that little bit of [footage] of us together, but it was great," she said. "And I don't think people could ever understand our relationship. There was always this supposed rivalry in the beginning and then we did the duet and we became friends and I saw her towards the end and I loved her. We all were inspired by her and we all loved her. May she rest in peace and her legend's gonna go on forever."
Watch the full interview below: