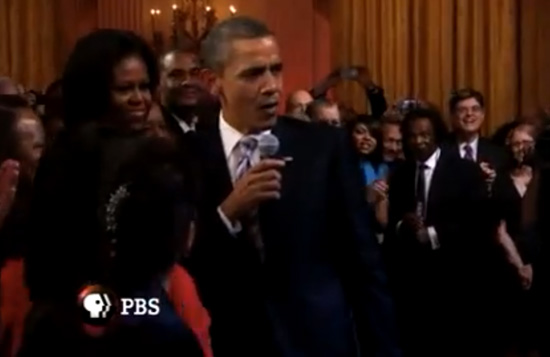 President Barack Obama has once again showed us why he's the coolest president ever!
In the final moments of a "Blues Festival," hosted at the White House last night, after a little urging from performers Buddy Guy and Mick Jagger, President O broke out into song (for the second time in the past month), this time, singing a few lines from "Sweet Home Chicago" with blues legend B.B. King.
"We were trying to get you to sing that," Buddy Guy is overheard saying. "Because I heard you had sung Al Green, so you started something so you gotta keep it up!"
Afterwards, Obama joked with the crowd, "Some nights when you want to go out and just take a walk, clear your head, or jump into a car just to take a drive, you can't do it. Secret Service won't let you. And that's frustrating.But then there are other nights where B.B. King and Mick Jagger come over to your house to play for a concert. So I guess things even out a little bit."
This isn't the first time our President has used his voice to please a crowd either.
A little over a month ago, while speaking on stage at a fundraiser at the world-famous Apollo Theater in New York, President Obama sang a line from Al Green's classic hit "Let's Stay Together" after thanking the music legend for attending the charity event.
The YouTube video became an instant Internet hit, and has since been viewed over 5 million times.
Be the first to receive breaking news alerts and more stories like this by subscribing to our mailing list.