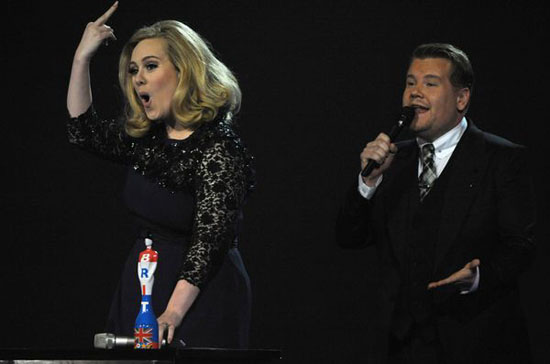 M.I.A. isn't the only one who can flip the bird during a nationally televised program!
Last night during the Brit Awards, rising music star Adele — who has been on top of the world lately following the massive success of her sophomore album "21" — flipped the bird in frustration after she was cut off during her acceptance speech for the award for "Best Album."
The show was apparently lagging behind schedule following lengthy acceptance speeches from previous winners, which forced producers to try and make up for lost time.
So while Adele was accepting her award (the most prestigious of the night), the show's host literally cut her off mid-sentence so that they could move on to the next performer.
As she accepted her award, Adele told the cheering audience, "Nothing makes me prouder than coming home with six Grammys and then coming to the Brits and winning album of the year. I'm so proud to be British and to be flying our flag, and I'm so proud to be in the room with all of you."
That's when the host, British comedian and actor James Corden, walked up, apologetically of course, and told her that she wouldn't be able to finish her speech.
At that point, Adele was clearly fed up, and she threw her middle finger up in the air before exiting the stage as the audience booed.
Adele later apologized, explaining that her middle-finger gesture was directed at the show's executives and producers, and not her fans or her home country itself.
"I was cut off during my speech, but I wanted to thank the British public for all their support. I was held up with my voice and troubles, but the album kept walking without me. I flipped the bird for the suits at the BRITS who cut me off. Sorry if I offended anyone but it was for them, not for the fans."
The Brit Awards also apologized to Adele via their own statement:
"We regret this happened and we send our deepest apologies to Adele that her big moment was cut short this evening due to the live show over-running. We don't want this to undermine her incredible achievement in winning our night's biggest award. It tops off what's been an incredible year for her."
Earlier in the show, before the incident — which has now made headlines all around the world — Adele performed her hit single "Rolling in the Deep."
Watch the performance below:
Be the first to receive breaking news alerts and more stories like this by subscribing to our mailing list.