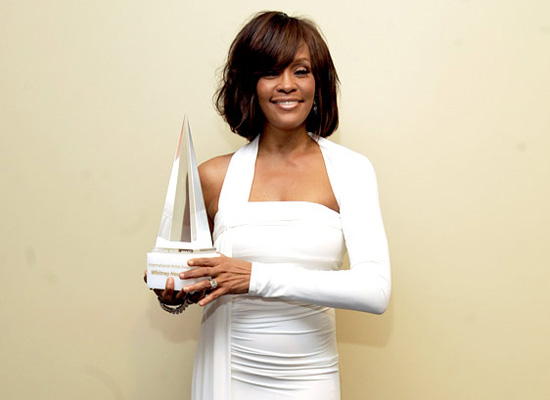 The private funeral service scheduled for Whitney Houston will be streamed live online via satellite this Saturday (Feb 18) from the New Jersey church where she grew up, according to the singer's publicist.
The "invitation-only" funeral will be held at New Hope Baptist Church in Newark, New Jersey Saturday afternoon at 12pm, and the Associated Press has been allowed one camera in the venue, which hold about 1,500 people.
While fans aren't invited to attend the private service, they will be able to watch live either online or on television, if the AP allows broadcasters to air the footage.
According to various confirmed reports, Whitney Houston's funeral services will be presided over by gospel singer Marvin Winans, a long-time friend of the family.
Following the service, the R&B icon will be buried next to her father Russell Houston Jr. (who died in 2003) at Fair View Cemetery in Westfield, New Jersey, her death certificate states.
Whitney Houston died last Saturday at the Beverly Hilton Hotel in Beverly Hills, California at the age of 48.
The singer was found submerged underwater in a bathtub by a member of her staff just hours before she was scheduled to attend a lavish pre-Grammy party hosted by her mentor and music industry icon Clive Davis.
Police have said that there were no signs of foul play, and the L.A. Assistant Chief Coroner Ed Winter said that there were no signs of trauma on her body when an autopsy was performed Sunday.
Investigators removed a number of prescription drugs from Houston's hotel room, but they haven't given out what exactly those medications were, though it was reported that in her hotel room were several different bottles of prescription pills — including ibuprofen (pain killer), Xanax (anti-anxiety drug), Midol (for menstrual cramps), and amoxicillin (for bacterial infections), among others.
While coroners have yet to determine an official cause of death, it is believed that the entertainer, who battled drug addiction during her life, perhaps died as a result of having a heart attack from the cocktail of drugs she was taking, as well as the alcohol (beer and wine) she drank before getting into the bathtub.
The L.A. County Coroner's office also told Houston's family that there wasn't enough water in her lungs to conclude that she had drowned, and she was already dead before her head went underwater.
Toxicology test results that will reveal the the medications and quantities, if any, that were in Houston's system when she died could take up to six weeks.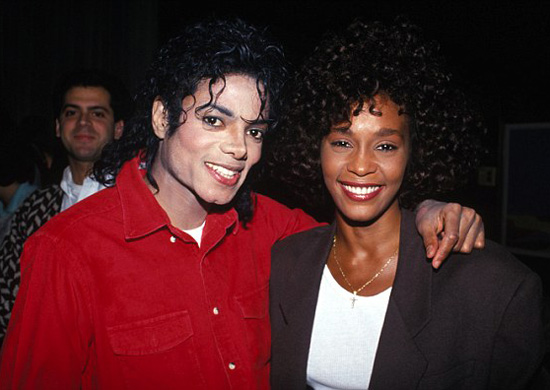 Meanwhile, Whitney Houston's sudden and unexpected death is being compared to the equally sudden and unexpected death of Michael Jackson nearly 3 years ago.
In a 2009 interview with Oprah Winfrey, Houston talked about how she was shaken by Michael Jackson's death. Jackson was 50 years old (2 years older than Whitney) when he died in 2009 from an overdose of the anesthetic drug propfol.
Like her friend Michael Jackson, Whitney Houston was also on the verge of a career comeback before her death on February 11th.
Also like Jackson, Houston's record sales have soared since her death, with some of her old recordings being propelled to the top of the charts on iTunes and Amazon.
It's being reported that her singles and albums collectively have moved a whopping 1 million units in less than a week.
As Billboard.com notes, it's expected that Houston's catalog of albums and songs will see even bigger sales next week, after a full week's worth of impact from her passing is felt on the charts.
The charts released next week will reflect the sales week set to end on Sunday, February 19th.
As far as her funeral is concerned, fans who want to tune in to the services can watch online at the following link this Saturday around 12 noon EST: http://www.livestream.com/aplive
Be the first to receive breaking news alerts and more stories like this by subscribing to our mailing list.