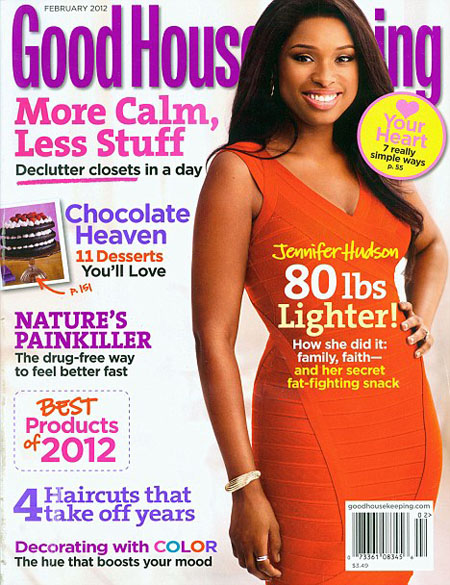 Jennifer Hudson shows off her "80 pounds lighter" body on the cover of the February 2012 issue of Good Housekeeping.
Shortly after giving birth to her son David Jr, Jennifer became the spokesperson for Weight Watchers and ended up losing at least 80 pounds, putting her at a size 6.
"I feel like a doll that I get to dress up!" she says in her interview with the magazine.
"It's crazy. They have to drag me off the red carpet! Because now it's like, 'You're going to take a picture of what I'm wearing? You're looking at me?' I live for it."
The R&B singer also admits that her 2-year-old son isn't at all familiar with the old her, and doesn't recognize her in old photos.
"He's never known me overweight," she says. "If he sees a clip of the old Jennifer from Dreamgirls, he doesn't know who it is."
Jennifer says that it was becoming a mother that really inspired her to take control of her life and join Weight Watchers.
"Everything changed the day my son was born," she says. "Motherhood brought tremendous responsibilities … none greater than the obligation I felt to get healthy and be there for my son.."
"David deserved to have a mama who could run after him without getting wounded or tired, to have a role model who could teach him to make healthy food choices. I needed him to grow up with a mama who always would be there for him by caring enough about herself to take control of her health and her eating," Hudson said.
Jennifer also explained how she inspired her family to join the Weight Watchers program and shed some pounds of their own.
"Over 75 of them are on Weight Watchers, and they've lost over 2,000 pounds altogether," she proudly told the magazine. "My cousin beat me, she's lost 112 pounds!"
Be the first to receive breaking news alerts and more stories like this by subscribing to our mailing list.