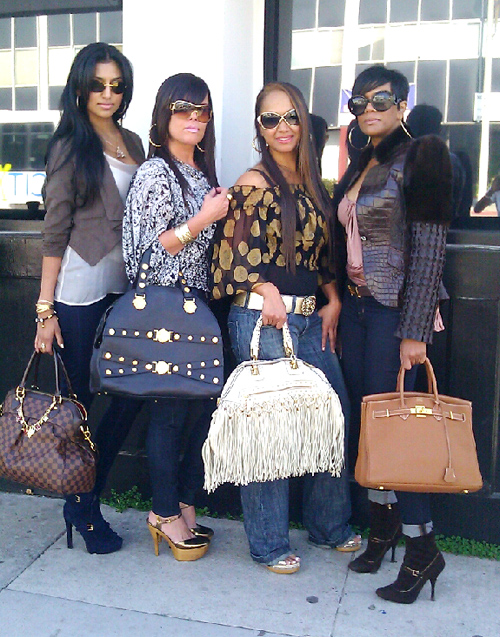 Oh geez … not another reality show about a bunch of angry women who can't (and simply refuse to) get along with each other!
Via Ozone Magazine:
Do we need another "Wives" reality show? The ladies in the lives of drug kingpins BMF (Black Mafia Family) think so.

The foursome below recently started shooting a reality show pilot with Strange Fruit Media, a production company that has produced content for BET and other networks, and are hoping to land a TV deal.

Thanks in part to Rick Ross, BMF co-founder Demetrius "Big Meech" Flenory has become a household name, even while serving a 30 year sentence for running a continuing criminal enterprise (aka selling a whole lot of coke).

Rumor has it there's a bit of friction growing between Meech and his lesser-known brother and business partner, Terry "Southwest T" Flenory.

Terry's wife Tonesa Welch (far right), who calls herself the "First Lady of BMF," appears to be the Shaunie O'Neal of this whole venture and hopes to help tell Terry's side of the BMF story.

The other cast members include:

* Gricelda Chavez, who was involved with music producer Damon Thomas (incidentally, although not as famous as Kris Humphries, he is also a Kim Kardashian divorcee). Damon was a player in a BMF money-laundering scheme involving jewelry purchases and, when confronted with the evidence, agreed to cooperate with the government as a witness against Terry.

* Lisa Buford's man "PJ" was a high-ranking BMF affiliate on Terry's side of the organization.

* Tiffany Gloster and her man Jerry "J Rock" Davis were both indicted by the DEA on BMF-related charges in 2007. Tiffany served a two year sentence for her part in helping to launder the proceeds from J Rock's cocaine sales. J Rock is currently serving a sentence of 39 years and 10 months in prison.
As if the Real Housewives of Atlanta, New York, New Jersey, Orange County, South Beach, South Central, the Basketball Wives, Football Wives, Baseball Wives, Soccer Wives, Olympic Wives, Mob Wives, Prison Wives and all of the hundreds of other reality shows about "wives" aren't enough already … here goes another group of women trying to cook up an idea bout another one?!?
Please tell us this is all a bad dream. Please?
On another note, we do spot some eye candy in the photo up top. So maybe this won't be so bad after-all…
Be the first to receive breaking news alerts and more stories like this by subscribing to our mailing list.