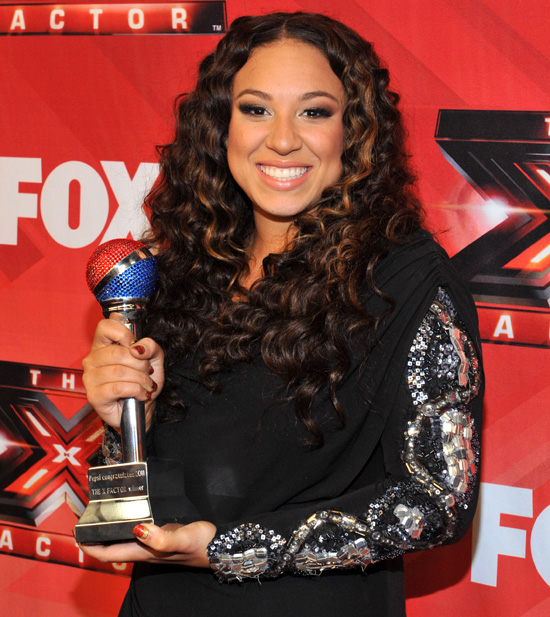 (Via Neon Limelight)
The X Factor USA has its very first winner and her name is Melanie Amaro. The 19-year-old Sunrise, Florida native who grew up in the Virgin Islands was named the season one winner during the live star-studded finale results show.
Amaro went into the finale as a hopeful with fellow finalists Josh Krajcik and Chris Rene. Rene, who won over America and the judges with his story of drug addiction and recovery, was the first to be eliminated and came in at third place in the competition.
"I feel amazing that I got to do this, that I'm here and that God has blessed me with so many opportunities," Chris said when asked how he felt about the elimination news. "I got to touch a lot of people's hearts out there and I just gotta say thank you."
With Chris out of the competition, that left Amaro and Krajcik to receive the final verdict. When the news was finally announced, Melanie was overcome with emotion. The shocked singer could barely speak, simply yelling "Oh my God" when host Steve Jones asked how she felt.
After seeing that Amaro was too shocked to immediately give him a response, Jones turned his attention to Josh and asked him how he felt about coming in second. "I feel amazing. Melanie deserves this. She has a wonderful voice," he said. "I've had such an incredible experience here. I got to be myself, sing what I want to sing and I couldn't be happier."
Finally composed enough to speak, a tearful Melanie thanked everyone for voting for her. "I'm just, I'm so happy and I don't know what to say. I mean, this is something I wanted all my life."
As the X Factor USA winner, Melanie Amaro wins a $5 million recording contract and her very own Pepsi Super Bowl commercial.
Be the first to receive breaking news alerts and more stories like this by subscribing to our mailing list.