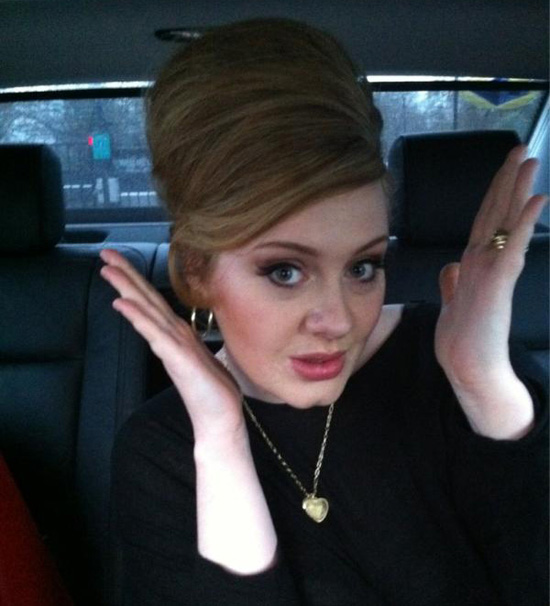 British singer Adele says that she is back on her grind!
The 23-year-old singer, who underwent throat surgery last month, tweeted a brand new photo of herself Wednesday (Dec 21), showing off a slimmed down look and a new hairdo. "Back on the grind. Hair and make up did. Merry Christmas!" the soul singer tweeted.
As far as her post surgery recovery is concerned, a source tells Us Weekly that the Grammy Award winner is "in a great place at the moment… She recently started some basic vocal training [but] she's taking it slowly."
The source added, "She has time off in her schedule for much of the first quarter of 2012. Depending on how her voice builds back up, [she might go] to to this medical vocal academy in Seoul. It sounds extreme, but she wouldn't be the first artist to go there after removing polyps."
Though some rumors speculate that Adele will make a comeback performance at the 2012 Grammy Awards in February, the source says that the singer "wants to keep a low profile" and stay out of the spotlight for a while.
"She's hoping the first half of next year can be pretty low-key — no concerts, TV shows, magazine interviews, music or anything like that. As she puts it, she wants to just take it easy and enjoy a well deserved break, with no pressure to record or perform," the source said.
Adele herself recently confessed to Billboard that she has no immediate plans to release any new music for another 2 or 3 years.
"I'm really looking forward to some time to do nothing. I imagine I'll be 25 or 26 by the time my next record comes out, as I haven't even thought about my third record yet," she said. "I'm just gonna lay some concrete, set up home and just 'be' for a bit. I'll disappear and come back with a record when it's good enough. There will be no new music until it's good enough and until I'm ready."
Be the first to receive breaking news alerts and more stories like this by subscribing to our mailing list.