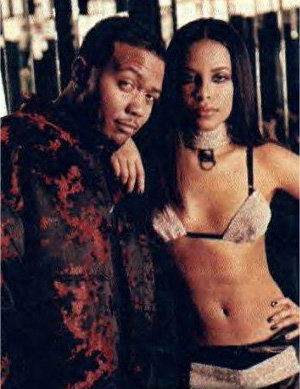 You do NOT want to miss Timbaland's upcoming episode of E!'s "True Hollywood Story," where the producer/rapper makes one hell of a shocking revelation.
In the interview, in which the super producer proclaims "This will be the last time I talk and I'm going back into hibernation"….he admits to being in love with Aaliyah at one point!
"When I first met Aaliyah—it time for the world to hear this, I'm gonna give a little secret—I was in love with her. I said, But I'm not…She just a baby, I'm old," Timbaland says. "I said to myself, 'I'm just gonna be her brother.' Oh man, I was fightin', I was fightin' a lot—a big war. But I loved Aaliyah."
In addition to professing his love for Aaliyah, Timbaland also confessed that he began having suicidal thoughts as he continued to gain weight throughout his hit-making career. In 2003, his weight was at his highest, he says.
"I was almost 400 pounds," he shared. "Who wants to be a 400-pound black man? I'm looking in the mirror, my breast is bigger than a girl breast. And I was saying, 'That ain't cool.' So I got very depressed, like suicidal depressed."
Fortunately, he never acted on those suicidal thoughts, and has now been happily married to his his long-time girlfriend Monique since 2008.
"It's probably hard to be married to me," he says. "It's not easy. I'm a musical genius. I'm weird, I do crazy things, it's not like the average norm. But I'm a loving guy."
Watch a sneak peek from Timbo's "E! True Hollywood Story" below:
The full episode airs this Tuesday night (Dec 20) at 9pm!
[E! Online]